Hooks galore as Superhands make their debut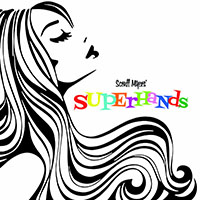 Scruff Myers' Superhands - Scruff Myers' Superhands (Blunder Town Records)
The Superhands' debut LP, and it's taken me far too long to get to it. The second LP will be under way shortly, I am told.
Blunder Town's press release explains that Superhands started as a one-off party band, which clearly took off in Scruff's head.
Scruff? John "Scruff" Ellis had 16 years' service with legendary UK clockwork punks The Adicts, and if you're not familiar with them, I suggest you start here. The Adicts play in an instantly recognisable style - it's catchy, anthemic, uplifting stuff.
Scruff Myers' Superhands formed with Scruff's favourite drummer, John Randall, and older brother, Mel "Spider" Ellis (founder member of The Adicts). See, this is a saga. Scruff got the bug in a serious way when Spider brought home "Lunch With The Adicts", the debut LP. After several bands and detours, Scruff ended up joining The Adicts - playing around the world for 16 years.
Bear in mind that as we grow, we don't want to keep doing the same stuff. Dee Dee Ramone didn't always want to be a Ramone, nor did Joey. There was other magnificence in them. Joey, you'll recall, had an innocence about him which he retained, musically, until his death at 49. See his posthumous albums.
Scruff seems to be one of these "I gotta create" kinda folks; he put out two albums from lockdown ("Velvet Lockdown" and "Lovejunk"), and came to the attention of Blunder Town Records ... and here we are.
The Bandcamp page states: "Catchy Powerpop Punk-ish record, lotsa great hooks! This vinyl was released on Blunder Town Records, a cool new lil' French label in blue, marbled blue-and-black with a cool inner-sleeve ..."
Blunder Town are, as you can tell, somewhat enthusiastic. Should they be?
Yeah. They should. Superhands remind me a bit of a man's Bangles (oo-er, missus). Or perhaps The Undertones at their best. Ever see The Undertones? God they're good. Should I mention The Monkees? Nah, Scruff's too fuzzy ... Sunnyboys? I confess I never took to the Sunnyboys (I have been firmly admonished and have promised to reinvestigate) so I can't compare ... But you're getting the hang of it.
That'll be the addictive hooks and swift chord progressions which slide into each other like lovers. And the '80s cosy garage fuzzywuzz. Fourteen songs, only one over four minutes long, only four others over three; three clock in under two minutes and one at less than a minute. Amazing how much you can pack in to a song. Classic pop? You decide.
Should I mention The Buzzcocks, as Superhands don't really sound like them? Or Blondie? No, best not.
Now, this guy. Scruff. He's got such a fucking great pop star voice. Magnificently closed to itching, or scratching, a marvellous, measured hesitancy, breathless in places, musing in others. Scruff's vocal in songs like "Tell Me" (I am told) recall the more pop aspect of The Replacements but that's by the by. Either way, the man has a sweet higher register which contrasts nicely with his guitar.
Superhands are a joyous experience. If you don't "get" this LP by the time Scruff starts singing on "Kissing for Granted", you're not ever gonna get it. His gorgeous guitar lick dances all through the song.
Or take "Twisted". Hell, bar the harmonies, here's The Lovin' Spoonful singing about getting stoned when you're in love. Ever been there? Nah, of course you haven't. A lovely groove with a fuzzy lollypop.
Every single song here leaves you wanting more. There's a richness to this selection, a variety which scuds from heavier tones ("Jessica Alba") to the pretty and reflective instrumental, "Some Year", or the just-waiting-for-the-MTV-Award "Down to You", to the awkward, intriguing intimacy of "Want to Know".
Really, if you want your grandchildren to get interested in music, this is the sort of stuff you play to them. Well, alright, perhaps not "Twisted". But you get the idea.
Superhands smell of summer: fresh mowed grass, buzzy bumblebees and your lady-love's soap. Oooooh!
Do you get it yet? Look, I reckon Joey Ramone would've loved Scruff Myers' Superhands. Essential.


Tags: scruff myers' superhands , the adicts, blunder town records