Howlin' with some help from their friends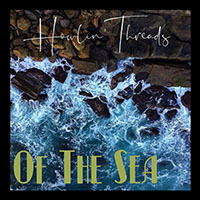 Of The Sea – Howlin' Threads (Meinshaft Records)
An EP with a generous serving of guests, "Of The Sea" is nothing if not true to Howling Threads' Detroit-via-Darlinghurst musical roots. Which sits just fine around these parts.
If you don't know already, Howlin' Threads is a trio whose members are located in and around Canberra and Wollongong. Dylan Thomas (guitar and vocals) and drummer Adam Fermo were in notable Newcastle band The Fools in the '90s while bassist Matt Houston was briefly in Tumbleweed.
Opener "Gotta Get" is a mid-tempo, swirling brew of high-octane guitars where Webster and Penny Ikinger trade vocals while ubiquitous James McCann adds molten slide and harmonica. The title track is an upbeat rocker where Ikinger leads the way on vocal and Radio Birdman's Deniz Tek steps into the spotlight with a distinctive guitar break.
"Don't go to the eye of the hurricane," Webster cautions on "Chain" while ex-Celibate Rifle Kent Steedman winds his way through the song with snaking guitar. Thanks for the storm warning but this is one enjoyable ride. Brent Williams of the New Christs brings a big splash of keyboards and piano colour to the closer, "Tick Tock". It's another lets-hit-the-road-and-head-down-the-highway rocker with Penny singing and the Howlin' Threads powering along in fine yeah-hup style, and is the pick of the bunch.
The EP is on CD and in digital form and if you're quick you can grab it on Bandcamp as a package with the rest of the back catalogue (which would be another EP and a vinyl single).

Tags: penny ikinger, james mccann, kent steedman, howlin 'threads