I'd Much Rather Be With The Noise - Rattanson (Open Mind)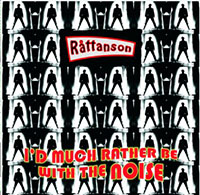 The DIY ethos is less a gimmick and more a way of life these days for the 99 percent of musicians not enslaved by a major label. It's either practical, necessary or all too easy to hole up in your bedroom and let those ideas pour out onto a hard drive without someone else calling the shots and charging your own money for it.
There's a defiite upside and also a downside. Rattanson is a case in point.
Rattanson is a one-man garage pop multi-instrumentalist from Sweden and "I'd Much Rather Be With The Noise" is his second album under that name. A former member of powerpo act Fanscene and garage rockers The Rawhides, he's gone solo to focus on his own songs.
Rattanson played all the instruments on his first record, 2017's "Full Scale Shakeability", and also on this one except for drums, for which he recruited Anders Björnlund from the Turpentines and the HiJackers. He'll have a bass player in tow to play the songs live.
Rattanson's songs are a varied lot of guitar pop, running the gamut from bubblegum to garage-lite and country. He plays competently and his vocals work without being distinctive. The production is understated - so it sounds best with the volume cranked.
Lead single "Small Town Concerts" is a charming pop rocker whose hooks are buried just below the surface. "No Best of Me" (another single) is a shot of breezy garage pop that's let down by a lack of energy.
"Can't Let Them Win" is folky psych-tinged that's an album stand-out. "Sure Of My Doubts" takes a leaf out of the Replacements book without the slop. "Want You Around" miss swirling organ and chunky riffing to make its mark. "Bamalamalicious" is pure earwig pop.
"I'd Much Rather Be With The Noise" doesn't offend but it doesn't hit great heights. It could have done with mor noise. It's hard to resist the thought that with some judicious third-party production, those buried hooks could have been brought into sharpr relief to make a good guitar garage-pop record a really great one.
Hit up Rattanson on Facebook for a copy as his label's website is a bare Wordpress shell with no e-commerce capacity.

Tags: garage, powerpop, sweden, rattanson, guitar pop, open mind