In Too Much Too Sun - Kevin K and the Krazy Kats (Rankoutsider Records)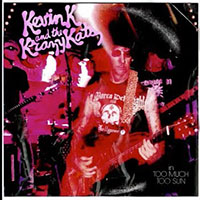 Kevin K has been plying this trade for 40 years and almost as many albums. His latest American crew, The Krazy Kats, are in synch with his modus operandi of gritty but melodic rock and roll.
As the title reveals, Kevin's latest studio album takes a generous leaf out of the New York Dolls book while slyly alluding to his longtime adopted home of Florida.
Kevin K was always going to end up back on Rankoutsider, the label run by ex-Lazy Cowgirls frontman Pat Todd. Like Todd's current band, The Rank Outsiders, the label specialises in down-to-earth, streetwise rock and roll music - of which Kevin K is the embodiment.
If you've been paying attention you'll know that there's a distinctive Kevin K Sound: It's no frills, guitar-laden punk rock, with a very tough edge, informed by life in the dives and gutters of New York City's Lower East Side. Kevin's plaintive vocal sits oddly but comfortably with the gritty sound of his bands.
"Too Much Too Sun" has a dozen songs that are true to the usual sound, although the band pushes the boat out occasionally on cuts like the oddly successful "I'm Her Dog". It's a song by bandmate and ex-Murder Junkie guitarist Duane Rollick, where the late Banjo Mark's banjo mixes it with grinding guitars.
Lashings of sax put some extra bounce into ebullient opener "Justify" while "Jungle Dolls" features some dual guitar snarl while managing to make more lyrical references to the New York Dolls than a dive bar full of sociology-trained music critics.
There's a chorus and title copped from the Alice Cooper Group in "Long Way To Go" but the song's mostly Kevin's own, although the Krazy Kats' sound isn't a million miles removed from that of the Coop's early crew.
"Screwball" is honestly autobiographical and simply executed. "Chinese Junk" is a little too obvious. "Hurry Up And Wait" is a chugging glam boogie distinguished by a Doll-ish rush of guitars.
The playing's tight and economical throughout with Mr K's newest band proving ideal foils to his songs. The tunes are the usual bag of stories about the fallen, fuck-ups, drugs, booze and good times.
The pick of the litter, however, might be "Under The Influence", a bittersweet look over the shoulder where guitars intertwined with melody underline the sense of pathos. The song that follows, "Gotta Getaway", is almost a polar opposite in its directness.
"Am I yesterday's news?" Kevin asks in "Yesterday's News". Let's hope not - for the sake of rock and roll.

1/2
Tags: new york punk, cbgb, kevin k, new york dolls, alice cooper, rankoutsider, too much too sun