Infectious noise rock from the backwoods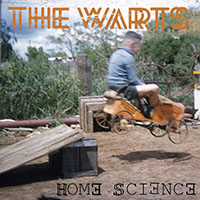 Home Science – The Warts (Outtspace)
You have to look hard to find Uralla on a map of New South Wales. Nestled in the Northern Tablelands, not on the way to anywhere in particular, it's a town of 2,000 people and not the sort of place you'd expect to find a band like The Warts. Or so the cliche would have it.
The Warts have been around for a couple of years and with the benefit of hindsight (along with their Bandcamp) it's clear that they began life with more than a passing interest in Krautrock acts like Neu.
At least that's how their 2019 album "Weakened by Mange" sounds when they were a quartet. Fast forward to now and long-player number two, "Home Science", is closer to Fugazi without the same sense of economy.
Back to preconceptions and it's tempting to speculate that the Warts incubated on a diet of beer and psychedelics in a barn on an isolated farm, cut off from society and making their own sound spontaneously, free of conventional influences. But we all know that's not how it works.
Perhaps the band itself sums it up best in its bio:
Like all viruses, treating The Warts with labels such as post punk, noise rock, or garage space metal just won't work. These Warts are a stubborn and relentless stain on your music scene. You will only ever know these filth wizards by their trail of detritus…
Now trimmed back to a trio of guitar, bass/vocals and drums, The Warts occupy the precipice where punk rock meets art and noise. This is an eight-track album (LP or download) where some of the songs approach the five-minute mark. It's not for people with OCD.
Een Wart's expansive guitar is plastered liberally all over this and occasional overdubs build the songs out. Rolling rhythms fill the cracks. Bassist Dame Wart adds vocals that nag in the distance, or fade in and out of an opus like "God Is An Alien", to good effect.
Buzzing sustain guitar and a meaty kick drum announce "Skinned" before a wall of chords slides in. A keening vocal hangs off some Sonic Youth circa "Death Valley 69" guitar-work. Clearly, not your standard three-chord punk.
It's on the highly-strung "Night Vision" that the Fugazi comparison rings truest. On the ther hand, "Chompa" twists and turns without really getting out of first gear. "Zydectin" - it's the misspelt name of a cattle drench (is that the sound of a copyright infringement being avoided?) is as close to pop as "Home Science" gets, but if you came here looking for Big Star you're sadly misguided.
As someone from their label Outtspace recently said when the band appeared at the Thrashville mini-festival: "Punters walked away scratching their heads, wondering if they'd just seen a post-punk/thrash/metal band… or if they'd just caught The Warts." Catch your own case of the limited edition pressing here or a download here.

1/2
Tags: the warts, outtaspace records, uralla, armidale, home science