King Cobra - The Senior Service (Damaged Goods)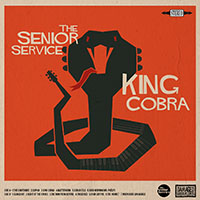 Effortlessly cool instrumental soundtrack music by a band drawn from the UK Medway scene. The Senior Service make epic songs.
If you don't know the names Jon Barker (organ), Graham Day (guitar), Darryl Hartley (bass) and Wolf Howard (drums and percussion), you'll know the bands they've played in, like Billy Childish and the Buff Medways, The Mighty Caesars and The Prisoners.
Hammond organ to the forefront, The Senior Service march to a drumbeat made familiar by predecessors like Booker T and the MGs. This is their second album and it could have filled the soundtracks of any number of spy movies, film noir thrillers or whimsical British dramas.


Parts of "King Cobra" sound like The Reigning Sound, circa "Shattered". Without vocals, of course. Minor chord guitar and bossa nova rhythms aren't the first thing that spring to mind when you think about Greg Cartwright.
Graham Day's guitar cajoles and caresses the songs, deep down in the groove and occasionally surfacing to add twang. Wolf Howard is especially adept at laying down a feel not tied to 4/4 beats. Darryl Hartley's bass leaves appropriate gaps for the organ to wash over.
"Slingshot" is the single and jumps head-first into the shorebreak with its nimble surf guitar runs and churning organ. It's the exception rather than the rule. "King Cobra" is a baker's dozen of eclectic and slightly exotic music. The horns and bongos of the song that follows, "Night of the Knives", couldn't be further removed with its blaxploitation whiff.
The band's label, Damaged Goods, just signed Melbourne's Amyl and the Sniffers who are on a mission to introduce the Brits to their sharp-edged street punk. Stylistically speaking, The Senior Service couldn't be more of a contrast if they tried. "King Cobra" is the soundtrack to your next cocktail party. Stirred and shaken.
Of course it's on vinyl as well as CD and download. It's released on April 28 but you can pre-order here.




Tags: the prisoners, billy childish, damaged goods, the senior service, buff medways, the mighty caesars