Live album is a fitting testament to Les Thugs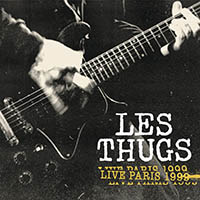 Live Paris 1999 – Les Thugs (Nineteen Something)
The first overseas signing for soon-to-be famous label Sub Pop, championed by Jello Biafra and Greg Shaw, and one of the few French bands to tour relentlessly around the USA, Les Thugs deserved to be more than a blip on the world's music radar.
You could go broke collecting the back catalogue of Les Thugs. It's all out of print and the rarest of it fetches biggish money on eBay. The band lasted from 1983-99 and bounced around on various labels. This album is their 10th and documents a show on their farewell tour of their homeland.
The sound of Les Thugs – named for the 12th Century Indian brotherhood of the ThuggeeThuggee who used to kill the rich for their money, not your standard bovver boys - is a few steps removed from their punk rock beginnings when they were formed, DIY-style, by brothers Eric and Christophe Sourice. It's dense and intense, two guitars with enveloping harmonics and textured bass-lines.
At times they sound like Buzzcocks if Pete Shelley had smoked Gauloises.
Eric Sourice sang in English and got quite political, but most of the lyrical content gets swamped by the band's bulldozer sound on "Live Paris 1999". Which isn't to say it's badly recorded; the French accent tends to burr the words and the most pointed song ("Dirty White Race") isn't among these 21 tracks. Sourice might have cut some corners on his English language vocalising, by the way.
"Live Paris 1999" is all business. Songs are reeled off, one after the other with little pause for breath and scarcely any in-between song patter or acknowledgement of the audience (who sound rapturous from the noise that does leak onto the tape.)
There's plenty of evidence that Les Thugs were a step above much of their competition. For every brutal pummelling like "I'm Just Kidding", its highly-strung companion piece "Femme Fatale" or the hardcore droning "Lost in the Suburbs", there are occasional moments of restraint. "The River" is one of the best with its delicate melody line underlined by spidery guitar, and "Mio Mio" nods to pop without dispensing with any of the power.
There are two covers, the Dead Kennedys' "Moon Over Marin", and a very warped and muscular "Brand New Cadillac" that outstrips The Clash's by several kilometres. Apart from that overt nod to Vince Taylor, there's a deeper '50s influence at play, best shown in the shuffling rhythm that underpins "And He Kept Whistling".
Random musings: "A Chance" would have done the Buzzocks proud and any resemblance between "I Was Dreaming" and Brooce's "Dancing in the Dark" is purely coincidental.
You don't have to know the back catalogue intimately (I don't) to dig this. Buy direct from the label here.

Tags: french, buzzcocks, nineteen something, les thugs, dead kennedys, live paris 1999