Boozzies impress with their toast to the coast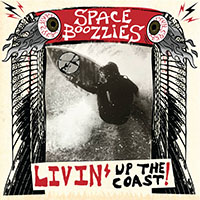 Living Up The Coast – Space Boozzies (Outtaspace Records)

Short, sharp guitar bursts tempered by occasional sax and lots of singalong choruses. These Space Boozzies have their punky garage sound nailed on "Living Up The Coast", their second long player in eight months, and it's now tighter and harder.
The 12 songs here reek of irreverence, stale beer and stained footy shorts – as befits a band from the New South Wales Central Coast.
For those not in the know, The Coast is a place just an hour north of Sydney's festrering rat race where the backyard barbecues burn brightly most weekends and the living is relatively easy - even when welfare dependence is high.
One of the jewels in The Coast's crown is Woy Woy, a rustic, waterfront hamlet that used to be home to the late British comedian Spike Milligan. Odds are that Spike would have taken to Space Boozzies like a Goon to a catchy tune.
The Boozzies are a "vinyl only" band and know the value of hitting hard as soon as that needle drops into the groove. The title track, and the bulldozing "Snake Charmer" that follows, are all-out aural assaults, as is Side Two's starter "Makes Me Come Alive", where stinging lead guitar and Michael Likeable's sax are deployed to good effect.
There's been a line-up change since the last record and the addition of Frecko (guitar and vocals) has the Boozies sounding more focussed than on "I Feel Alright!". It never gets too complex, however: "That's What You Get For Your Trouble" is as simple as these songs come ("motherfucker" is its lyrical mainstay), while "Rocket Fuel Mix Up" exhumes the Ramones and puts them in a footy jersey and thongs.
Speaking of D-U-M-B everyone's accusing me, "Surf & Turf" echoes the Crusaders' "Seafood Basket" in both culinary and chordal economy, and the Boozies' cover of Space Juniors' "Chewin'" matches strides with the original for studied stupidity. Which isn't to say these guys can't play. There's barely a pubic hair's space between the three guitars of Likeable, Ben Playboy and Frecko, and the engine room of Beerserker (bass) and Lethal (drums) turns on a dime.
"Tyrannosaurus Sean" is the putdown song of this week. Remember: Only real mates call each other fuckwits.
This sort of stuff ain't new but it ain't half bad, either. Call me biased but there's no yob rocker like an Aussie yob rocker. Clayton Seglev and Angie Watson produced it and Mikey Young did the mastering, naturally enough.

Tags: dunhill blues, outtaspace, space boozies, living up the coast