Mobile Homeland - John Sinclair (Funky D Records)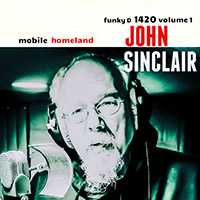 No introduction needed for the onetime spiritual leader of the MC5 so here's a personal note about meeting John Sinclair:
It was on a night off during a business trip that involved a flying visit to Ann Arbor, Michigan in the early 2000s. Sinclair was in town for that city's annual Hash Bash and had just played a show at The Blind Pig. I'd been drinking at the Eight Bar Saloon with some locals, including Scott Morgan who did the introduction.
I was heavily intoxicated. Sinclair was undoubtedly stoned. He was smaller than I imagined. I can't recall any of the conversation. I seriously doubt he understood a word I said; most of it would have been in Chinese by that time of the morning. He kept talking to my deaf ear.
Like industrial deafness, John Sinclair's music is an acquired thing. The man declaims rather than sings, firing off rhythmic bursts of conversation in the style of Mick Farren or Lou Reed, usually to a blues or jazz backing.
On this record, it's not just any blues backing band. The cast includes Wayne Kramer (MC5), Mary Cobra (Detroit Cobras), Jimmie Bones (Kid Rock), Johnnie Bassett, Harmonica Shah, Jeff Grand, Dave McMurray and Johnny "Bee" Badanjek (Detroit, Mitch Ryder, Alice Cooper) and Tina Gross (Howling Diabolos). Tino arranged most of the music. I'd pay to hear Bee drumming behind just about anyone.
OK, at this point I know what you're going to say about poets who set their words to music, especially rock. Patti Smith, anyone? Jim Morrison didn't do too badly did he? So stop it. Right now.
The real point, however, is that Sinclair doesn't attempt to rock out. He rolls. It's all about the feels. And the cast he has behind him IS stellar. They lay down deep, bluesy grooves by the spade-load.
The title track and "Cast Corridor Breakdown" are commentaries on urban renewal and isolation. Sly and wry. "Detroit Beat Down" is about, well, being beat down, a universal song around the world.
"Everything Happens To Me" is a lament that gets along on the back of some tasty guitar and sitar from Jeff Grand and Eric Gustafson respectively, while "Dance Of The Infidels" is a deftly-played blues chug with harmonia and sax punching through. Your guess is as good as anyone's whether Sinclair is playing it stratight on the break-up song "I Surrender Dear" or laying on the irony. That scratching grates, however.
"Let's Call This Rhythm Inning" is the surprise packet - it starts as a pedestrian lounge song and mutates into a soulful funk jam, with Wayne Kramer notably wailing away against sublime backing vocals from Rebecca Saad and Alex Michelini and killer sax playing by Chris Kearcher. A surreal baseball song populated by Monk, Davis and Coltrane.
"Mobile Homeland" - is the title also a metaphor for Sinclair's living in Amsterdam, punctuated by trips back to the USA? - is very good. Long may the man roll.




Tags: mc5, wayne kramer, john sinclair, ann arbor, mobile homeland, funky d records, blues scholars, tino g