No disputin' that The Media Whores next need to skewer Putin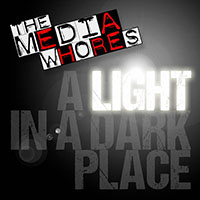 A Light In A Dark Place – The Media Whores (Twenty Stone Blatt)
Four studio albums into this punk rock caper and The Media Whores aren't mellowing with age. History records that there have been more battles in their home of Stirlingshire, Scotland, over the last 500 years than most old school Aussie pubs, so it's only fitting that they keep fighting wars on multiple fronts.
Wanna talk about old punks? The creative fulcrum of Craig (vocals and guitar) and Doogie Mackie (bass and backing vocals) lit their first fire together in 2008 and the band almost won a mainstream industry Mercury prize in 2017 for their caustic "Dangerous Minds" long player. Presumably, a win would have been the kiss of death so let's give thanks for the judges' lack of good taste.
Capitalism…Brexit…the global pharmaceutical industry..,the cult of celebrity…mass media…they're all popular targets of the Left, and they get their comeuppance on "A Light in A Dark Place". About the only target missed is the Mercury Prize but maybe they're saving that for the next record. The real talking point is that once these Whores latch their teeth into a melody, they don't let go.
And how. There's a hook or two in the gnarly guitar of "Las Vegas Of The North" and the anthemic "Big Pharma" is more of the same. "Sufferers" is distinctly '60s pop in its melody line. "Money" sounds like Barrett Strong but we can all sing along to its lyric about "stop making stupid people".
Props to the bustling lead guitar of Chris McArthur. His tone on "Is The Cold War Getting Warmer?" might make it this week's favourite song on the record.
Australian King of Pop Dave Graney had Warren Oates, the Lipstick Killers' Peter Tillman admired Victor Mature. The Media Whores carry a torch for thespian Albert Finney. Not sure why (his rejection of conventional honours like the Oscars and a knighthood maybe?) and the song in his name is rendered solemnly - like a '90s version of The Damned without Goth affectations – to be an oddity of the litter.
Speaking of songs, you get 10 tracks on the LP and 13 on the CD. The digital Bandcamp version is differently tracked to the vinyl.
If the world truly is fucked then The Medai Whores will provide the soundtrack for the looming fade-out. Needless to say that everybody's favourite dictator Putin shoiuld come in for a flogging on the next album. We'll all drink a wee dram to that. Even you dry drunks.
Granted that we don't to hear many Scots bands in Australia outside the Edinburgh Military Tattoo, but it's hard not to think that catching a live pairing of The Media Whores and their even more grizzled, haggis-chomping countrymates, The Primevals would be worth walking 500 miles. And maybe I would walk 500 more. Don't you hate shit jokes involving The Proclaimers?

1/2
Tags: punk, primevals, scottish, the media whores, a light in a dark place