One For The Road - Bigger Than Jesus (Dinner For Wolves)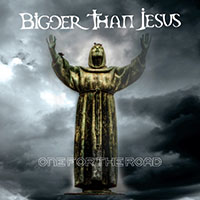 You can't separate Steve Lucas from his X history – at least not in this bar and not in this part of the world.
The early members of X eschewed the punk tag because they regarded themselves as a rock and roll band. The delivery might have been rawer than a steak in a trendy French bistro but the band's musicality raised it above the average two-chord wonders.
Since the deaths of most of X's many members since formation, Lucas has firmly held onto the band's legacy, while not limiting himself musically. Bigger Than Jesus is proof of his determination to branch out.
We all might say we hate labels but we all still use them. If X was (and is) his "punk" band, The Groody Frenzy his blues rock outfit, Pubert Brown his psych-Kinks trip and A.R.M. his Oz Rock monster, Bigger Than Jesus is Steve Lucas's "metal" group. And how.
Intricate guitar lines and "big" solos, an engine room hot enough to fry eggs on and blues-based, bombastic songs about jealousy, sex and loss. All played without irony and delivered slightly tongue-in-cheek. After all, these songs are sung by a towering frontman in a mummy outfit, standing against the backdrop of a giant cross.
This eight-track EP (vinyl or download) was mostly recorded in late 1992-early '93 by Mark Forrester in Melbourne around the time of taping the band's sole album, "Killervision". If the tracks were leftovers or after-thoughts, they're pretty handy. If anything, they sound a tad tougher than the LP - which I wasn't a big fan of anyway. Maybe the monstrous sound on "One For The Road" is down to the mastering job by Gil Matthews.
It's brutal, grinding music that's underpinned by an ominously powerful engine room of Kevin McMahon (No and, briefly, X) and drummer Craig Whitelock (Nick Barker.)
The frantic guitars of "Wicked Love" match the venomous Steve Lucas vocal to be one of the best songs here. McMahon's surging bass-line signals the title track's arrival with churning guitars and another wonderful Lucas vocal the take-outs. Say what you want about cliched banshees like Jimmy Barnes - Steve Lucas deserves to be held up as our own Antipodean version of Steve Marriott, only raspier.

The spacey "Night Call" is prog rock by comparison, with more guitar trills than an ostentation of peacocks.
You can rail all you want against the clichés inherent in most heavy metal - and a lot of them are present - but BTJ ultimately makes a success of their excess.

3/4

Tags: steve lucas, bigger than jesus , one for the road, dinner for wolves, x