One of Those Fine Days - Guy Littell (AR Recordings)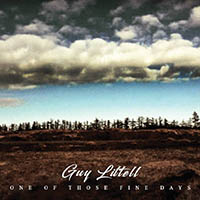 When you take your surname from a character in a James Ellroy book, you nail your colours to the mast as a fan of most things American. Naples-born Guy Littell might be as Italian as pizza with a cappuccino on the side, but his music is drenched in Americana.
Littell's biography mentions his links to Steve Wynn (of The Dream Syndicate and a long solo career) on whose next album Guy guests, and the impact of hearing Neil Young and Mark Lanergan. "One of Those Fine Days" shows those influences writ large - plus a deep dish serving of Matthew Sweet.
Littell might not have the pipes of Sweet - who does? - but he and his band tackle these 10 self-penned songs with a similar measured, rock-pop aplomb.
Generally speaking, many Italian bands I hear don't have a great grasp of the studio or rely on a tiny recording budget (sometimes both), but Littell obviously knows his way around a control room desk. The sound is clear without too much polish, allowing the nuances of the music to shine through. Dry drums and guitars slightly back in the mix are the order of the day.
"So Special" is a strong opener and typical of the simple rock format the album follows. Littell's slightly quavering vocal wraps itself around the lyrics against a spidery guitar figure. It sounds a lot like Australia's Cub Callaway and The Revolutionnaires.
"One of Those Fine Days" swings from earnest pop-rock ("Better For Me") to slightly more urgent rock ("New Records & Clothes"), but most tracks barely break into a canter. A little less restraint might have been good.
Props to Luigi Sabino for the outbreak of guitars on "Don't Hide" but (at risk of labouring the Matthew Sweet comparison) he's not Robert Quine. Who is? Closer "Old Soul" features guest guitar from Kevin Salem (Dumptruck, Ya La Tengo) and it's another stand-out.

Good songs, well recorded. Solid effort.





1/2
Tags: italian, steve wynn, the dream syndicate, guy littell, one of those fine days, AR Recordings