Organ Grinders - Demented Organ Duo (Demented Organ Duo) and Baile Bruja Muerto - Reverend Beat-Man and Izobel Garcia (Voodoo Rhythm)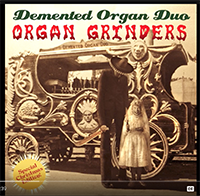 One of the greatest things punk gave the world was that you, too, can make your own music and, if only in your bedroom, be a genius rock star.
Adelaide's Chris Spud (aka Demented Organ Duo), the stay-at-home musician (except when playing in a horrible local punk rock band), has the most satisfactory musical and literary taste. There are four songs here; all recorded, cut and edited laboriously in Spud's luxuriously cramped studio.
"Organ Grinders" is a brilliant, sarky, creepy, savagely knowing piece of theatre. If you dug, for example, Tom Waits' circus/fairground-type music, you'll dig this - and so would Tom.
I won't give it away, but this is a brilliantly envisaged and realised piece of nasty tomfoolery; "Tuco the Little Donkey", "Slap Happy", "Carnival of Souls'"and a track originally by John Carpenter and Mykola Leontovych, here titled "Carol of the Knives". It's difficult to explain, but you'll recognise every musical aspect, and the way its put together will have you grinning.
The cover is creepy as fuck, too, especially with its little label "Special Christmas Edition" - this last relates to "Carol of the Knives'" which glories in the Krampus legend (lyrics courtesy of Spud's literary offsider, Ms Kakl).
Here's the original 'Carnival of Souls' ...
and here's "Carol of the Knives"
You know you need this; also, you should stock up, because not only will they not last, they make excellent Krimbo pressies, of the "whether they like it or not" variety.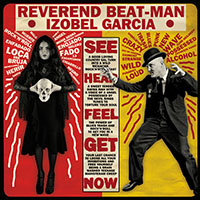 Returning to the concept of 'sod it, I'll do it myself, how hard can it be?', the Reverend Beat Man is throwing another CD our way. This is the man behind Voodoo Rhythm Records of Bern, Switzerland.
Think you know what this one will be like? Pure blues trash?
Nah. Well, I spose it has aspects of blues trash, but "Baile Bruja Muerto" sits somewhere between the detonative night club and the urban mystical. Not hampered at all by the occasional song in Spanish, and the scattered influences of the pair. Garcia, on organ and drums, is from LA, by the by. This is a damn cool mixture - it reeks of lost bleak '50s romances, misguided religion, death, life and drink.
Certainly there's the good Reverend's abrasive squawk'n'bellering guitar, the waaahing guitars, and the unpriestly gutbucket voice (with not a small nod toward the Van Vliets of the world) which we've come to expect and love. You should hear their version of that LA classic (which I actually despise) "Love Me Two Times'" it positively stinks of menace, sour lust and greed. Wonderful.
Garcia's gorgeous voice flips the proposition about, from her shimmering intro; the Reverend describes "Baile Bruja Muerto" as "a bit Bizarre Strange and Dark and sometimes very stupid ..." which it is.
Stupidity and beauty, now there's a combination; their version of Venom's "Black Metal" may as well be a Tom Waits out-take from "Rain Dogs" - that's a compliment, by the by.
Every song has been approached with care and thought; "Baile Bruja Muerto" is the epitome of one of those lost underground albums you discover by accident, shoved at the back of your drunken (but interesting) uncle's collection. 40 years ago, a record like this would have generated the same emotive resonance that, say, the Silver Apples or The Cramps once did.
The Reverend and Garcia did not rush into these compositions, but worked on them over time; I gather they've toured this set (with, presumably, other songs) through the USA and Europe. That'd be a treat. We definitely live in the wrong country.
Sometimes I wonder what alcoholic beverage best suits a particular album. The Demented Organ Duo, well. Definitely some sort of fruit-based cocktail, possibly involving pineapple and lychees.
The Reverend Beat-Man and Izobel Garcia? Some sort of absinthe, I think; alcohol and hallucinogens anyhow. Buy it here.

- Demented Organ Duo. Essential seasickness.






- Reverend Beat0Man & Isobel Garcia Essential soul sickness.
Tags: chris spud, voodoo rhythm, reverend beat-man, isobel garcia, demented organ duo, organ grinders, Baile Bruja Muerto