Packed lunch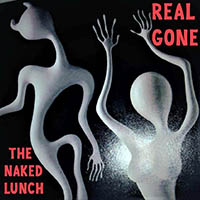 Real Gone – The Naked Lunch (self released)
Hello Barflies. The Farmhouse has been rocking these past few weeks as I've been kindly gifted an advance copy of The Naked Lunch's album "Real Gone" and it's full of surf-punk-pop tunes.
The album is a couple of covers as well as the single, also called "Real Gone" which I reviewed a few weeks back here at the Bar, so I was very excited when this landed.
The Naked Lunch is Murray Shepherd (drums and vocals), Tony "The Kid" Robertson (bass), Tony Gibson (guitar) and Steve Beves (vocals) and they take you on a time trip back to the underground Sydney surf pop sounds of the early '80s.
This is no fucking imitation; these guys where there at the beginning and are still punk/Iggy Popping today. This is 12 tunes, all catchy rocking numbers.
Although "Bad Blood", "Lest We" and "He's In Love" really grab these ears, what did come as a surprise was the cover of The Hitmen classic "It's So Hard". Is it a cover when one of the songwriters re-records one of their better-known tunes or a re-interpreted version? One with time on their hands may ponder such things as they walk.
Oh I nearly forgot "Foolish Pride", the last track on the album, needs a mention. What a wonderful song to end a very good little punk-pop and surf rock album.
The single "Real Gone" is available now on Aldora Britain Records and Bandcamp. The album "Real Gone" should be available online any day now. Great album.


5 Beers please Mr Barman
Tags: album, naked lunch, real gone