Powerglide High Octane Edition - Hydromatics (Easy Action)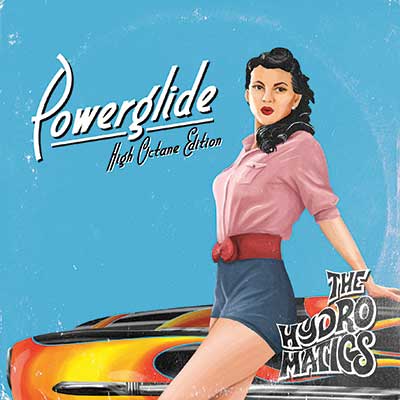 UK label Easy Action is launching into its three-legged re-issue campaign for trans-Atlantic super group the Hydromatics by leading off with the band's next-to-last studio recording. And with good reason. "Powerglide" is the perfect meeting place of blue-collar Detroit rock and roll and blue-eyed soul.
"Powerglide" came out in 2001 but if you can remember blinking back then you probably missed it. No sooner had it landed in the racks then the Italian label that put it out went belly-up. Fourteen years later, the gap in the market for genuine, rocking soul with power is larger than ever, so it deserves to sell by the truckload.
Featuring the prodigious talents of Michigan legend Scott Morgan up-front, the Hydros became a cult item throughout the rock and roll boltholes of Europe. This record emphatically shows why.
The Hydromatics had assembled to showcase the songs of Sonic's Rendezvous Band. At that stage their music was mostly the stuff of shoddy bootlegs and a solitary double-sided single. The posthumous "Sweet Nothing" live record and "City Slang" follow-up EP had revived interest. Morgan himself had been keeping the flame burning with his own bands. The studio-recorded "Parts Unknown" was the Hydro's debut album and, yes, it did the music justice. "Powerglide" distilled all that was great about that and wrapped parts of it in horns and female backing vocals to up the ante.

True to the original charter of the band, the core of the album is seven Sonic's Rendezvous band songs. By now, however, this was more than a cover band. The Hydros were pursuing their own muse with some killer originals, mostly penned by Morgan.
Morgan's guitar partnership with Dutchman Tony Slug (Nitwitz, BGK) scorches on raw and raucous tracks like "Ready To Ball" and "R.I.P. R'n'R" and he's never sung better. By now, Morgan's Powertrane bandmate Andy Frost had replaced the Hellacopters' Nicke Royale on drums due to the latter's other commitments. What the band lost in star power it gained in dynamics. Frost and the fluid Theo Brouwer on bass struck up an instant and enviable partnership.
At 23, Frost was something of a prodigy, coming into Morgan's Ann Arbor-based band Powertrane after spending time in the orbit of Scott "Rock Action" Asheton. The young man was clearly born to play drums and his precise but immensely powerful work runs through "Powerglide" like a tank through a farmyard. Andy's death from a drug overdose in 2010 was tragic and the re-packaged album is dedicated to his memory.
"Soulbone" resonates with a glow that makes it sound like it was birthed at Muscle Shoals. There's a similar appeal to the swelling "Green-Eyed Soul." "Ready To Ball" and "R.I.P. Rock and Roll" are as fearsome a two-punch opener as you'll hear. "Tumblin' Down" swaggers like the Stones all amped-up on quality pharmaceuticals and Memphis soul.
The re-issue maintains the hidden studio track, "Starvin'", a tightly mixed dose of horns and vocal but without the interminable gap between it and the rest of the record. The first CD is faithf8ul to the original song order and appends half a dozen fiery live cuts from Europe in 2001-02. Then we parachute into uncharted territory with the second disc of unreleased rehearsals, dubbed "The Perry Como Tape" because it was recorded on the same day the old crooner bit the dust.
Think of this as the full album, pared back to its base elements. The guitar partnership of Morgan and Slug is right in your face, but Andy Frost's dynamism almost steals the show. Sound quality is right up there so be sure to crank it up.
The original album's been given a db tweak in the mastering and it's come up a treat. Tony Slug's production was always a winner and now sparkles a touch more. In-house art guy Les Clark's kicked another goal with the new packaging.
Ken Shimamoto's concise liners put the whole story perfectly in perspective and underline that the Hydros were very much a product of the road. They're also a reminder of how I-94 Bar readers assisted when Theo Brouwer pulled out of an imminent European tour. Thanks to you barflies, we connected the band with Laurent Ciron, a Frenchman who'd played bass for The Dogs (the Gallic ones) and generously got his arse to Amsterdam and strapped himself in for a month-long tour.
There's nothing more to say except to ask what your excuse is for not clicking on the Easy Action link below and ordering a copy, post-haste. Fourteen years later is as good a time as any to catch up.