Psychedelic savagery, deadpan destructions and grooviness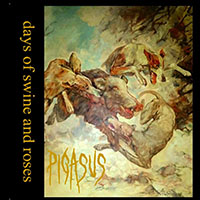 Days of Swine and Roses – Pigasus (Pigasus)
Cautionary Tales - Tim Hudspith and Goldentone (Dead Letter Records)
Dirty Paws - Swamp Kitteh (Swamp Kitteh)
All of these folks take me to that small area around Grote Street near Victoria Square in Adelaide, where so much of my life has been spent. Right near the Central Market, Her Majesty's Theatre (where I still remember Willner and Mingus's production of "Tommy" - the stage door was across Pitt Street from my boss's old shop); the Antique Market (where I alternately froze and steamed in amongst the pigeons and dusty volumes for nearly 20 years, formerly Wiggy's Auction Rooms); the recently established Broadcast Bar and the Metro, where I've seen all of the above bands.
All of these place's are within a stone's throw. You'd think I'd be sentimental.
Not a bit of it.
These three CDs could be the veriest trash, fit only to throw at lepers (and my goodness, our current PM seems to have a collection of those in his Cabinet these days, doesn't he...)
Well, it's a mighty five bottles for Pigasus. You need this CD (and their others).
Saw them recently at the Broadcast Bar with the crackling Dapto Dogs in support. Pigsy (you do call them Pigsy, don't you?) have instant comparative impact; try Helios Creed, Psychic TV and one of Gary Glitter's original drummers. Psychedelic savagery with smatterings of glistening beauty.
No idea what the songs are about; Nathan's voice is too wretched to work out much there. But there's a very dark seam running through them, with the kind of humour you won't always want to get. Heavy as fuck, too. Both main vocalists offset this brilliantly - Dot is fabulous on "From the Stars". Nathan ... well. Must've missed his calling as a mad axe murderer, I guess. Tossing their vocals back and forth, call and response style works well against the sound of the band (see "Flight ov the Swine").
From the first song ("Blood and Shit") to the last ("Lost in the Sauce") you're in for one of those experiences ... well, you're standing in front of an oncoming truck. Fucking alarming, really.
The band are: Dot on gitar and vox, Nathan on gitar and vox, psychedelic Jack on bass and Michael on drums. Context: Michael is a veteran of Leather Messiah who were ferocious and warped; Dot and Nathan are veterans of so many bands that you'd think they'd know better by now, but they're both accomplished musicians - Nathan is a remarkably inventive chap, and his guitar lines vary from gig to gig, and enduring his scorched earth policy is a feat to deafen the brave.
This ain't "Australia's Got Syphilis". I have no idea where Jack came from, but frankly he looks like he's been playing the bass forever, has a fluid, unconscious style and makes these songs look as effortless as the rest of the band.
The songs - well, they shift. They don't always go where you think they'll go. I won't say there are touches of early Swans there. There probably isn't. But like I say, heavy shit. A particular favourite is "Lest We Forget" with a particularly fine line in spiky guitar.
Get fucked up here (there's a couple of other releases which you also need) , and while you're at it, bring them to your town - you know you need your system sluiced.
So to Tim Hudspith and Goldentone's "Cautionary Tales". Jesus. I rate this five bottles, maybe six.
Missed Tim at the Swamp Kitteh show at the Metro, but obtained this by way of recompense, and it's his 2020 CD.
Tim's new album retains his hallmark gorgeous, deceptively groovy and simple guitar ... and those lyrics. So vicious; I'm telling you now, you ain't heard bitterly ironic handclaps or chants like these. Don't know if you've ever heard Jilted John? No? Well, never mind. "Cautionary Tales" is the ultimate "break-up" and FTW record. If you last past the second song without reaching for the tipple you head for when feeling weepy for the fucked-up past, you're a better person than I am.
So, a few notes. "You're an Artist" opens, and is one of the most savage deadpan destructions I've heard ("You're a poet/ Published in the States/ Yeah, you're a poet/ Your work is really great"), sneering at the artistic "I am superior to you" temperament so readily visible in Melbourne (and elsewhere).
I'll add that the Bandcamp page's aside that "influences include Nick Drake and Robert Forster" are, as far as I'm concerned, irrelevant. I love Drake, and respect Forster (tho' I confess I'm not a huge fan), and I'm telling you now, what Tim Hudspith does is quite different to what they do. And I prefer Hudspith to Forster (Drake is another fucking planet, and if you've not discovered him, on me he had the acoustic impact of The Ramones' first LP back when it came out).
But this is small beer. Take this: "I took all the books you lent me/And all the poetry you wrote/ And all the letters that you sent me/ Now they've all gone up in smoke'"... well, certainly puts Henry Rollins reminiscence of his Ronnie James Dio "break-up" periods into perspective.
"The Ballad of Lilly McGowan", while clearly being influenced by one N. Cave (presumably from the "Murder Ballads'"LP), is a creative nod in the direction of bushranger/pioneer lore rather than an Americana gore tale; Jack Kelly was indeed brother to Ned (who you may have heard of) although his wife was Violet. Either way, by now you're pondering more ghastly romances which turned sour, and you're definitely three or four shots in.
"Monday Night" is apathy and circular, purposely rabbiting on your own writ large - horrible to contemplate and dreadful to behold. It's a cover (by Adelaide's The Watershed - I know you have all their LPs) though it fits perfectly with the larger, broader themes of interpersonal misery. "I don't have to worry/ There's nothing to do but I really don't mind/ Strangers/ Simply waste my money and my time". As you can see, charming, I don't think.
"Walk Away" is not the cover you think it is, but is (as his Bandcamp page informs us) a "pop guitar track". Can't imagine dancing to this, Tim, nor can I imagine the screaming girls of 'Countdown' yore, but old N. Cave will be reaching for his (black?) hanky and blowing the old honk. It's brilliant.
Right about now, you're either reaching to uncork another single malt, or gave up long ago. By the time I got to 'Adelaide' the room was spinning and I needed to erupt from every orifice. Destroyed by pain-filled beauty. Tim doesn't call his outfit Goldentone for nothing; sheets of agony-drenched beauty. Quite extraordinary.
From "Adelaide": "I'm leaving this town for the big city lights/ I'm leaving this town to start a new life ... I'm heading west along the highway/ I'm heading back to old Adelaide"... I mean, Christ, that lyric alone is enough to bring you out in humungous hives, never mind make you weep.
Let me emphasise that "Cautionary Tales" also reeks of that period of the 1970s where singer-songwriters either had a great feel and great songs, or one but not the other (I'm ignoring those hordes who were, essentially, cabbages with guitars). On this release, Hudspith is very much in the first category. I've had "Cautionary Tales" on repeat most of the afternoon, and his "lie lie lie lie" chant will follow me to the grave. Get it here. If I recover sufficiently, I may get to Tim's most recent LP.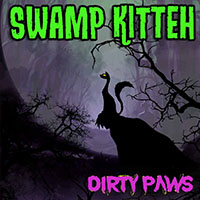 As for Swamp Kitteh's "Dirty Paws" – give them four-and-a-half bottles. Shake it up and spray!
First thing you need to know is that this band were the most played, and most liked local band on Adelaide's local community radio, 3D. Before you sneer, Sydneysiders, we got bands coming out of our ears and we still have venues to play in.
Now, this is no mean feat; it's a huge achievement. Amanda has a fine voice, a sharp sense of humour and a stage presence which, like the rest of the band, reeks "groovy". In fact, they should all change their names and put 'groovitan' in there somewhere. The musicians (Jen, Chris, Michael, Brendan and Hermann) are all ridiculously talented - I've seen them all in considerably different situations elsewhere - and it shows in the strengths and complexity of the songs (with assorted vocal effects from Amanda). The songs are solid, uplifting ... "broken and bruised/ but with pills and booze/ I'll never feel again".
Their recent gig at the Metro had the band in the throes of shifting membership (it's a fairly common Adelaide thing, apparently). For once Jen managed to turn the volume of her violin up so we could hear how good it was fuzzed against the rest of the band. Some wacker hollered out for the bass player to get his willy out, I recall, to the astonishment of the mild-mannered Hermann. But hey. Adelaide.
"Creepy Creepy" is laid back drawling 1950s-style creepshow, Amanda uses a melodic, humour-laden voice to tease and beguile.
"Devil's Hand" is a similarly 1950s-soaked tale of regret. A well-groovy waltz which takes us all around the rood. Straight outta "Twin Peaks". One of Swamp Kitteh's strengths is the complexity of the songs, along with assorted vocal effects.
"Fukt Inda Hed" is another rather groovy carry-on which, apart from the chorus, should really appear on a modern LP compilation a la "Explosive Hits".
"I Need Somebody'"- I won't carry on about this but this is easily the best version of this song I've heard - takes the mood and tone and whisks us elsewhere, into a different (non-Stooges) world. "In My Shoes" is perhaps the most familiar in style and content, while the EP ends with crowd favourite "Squirrel", which I won't spoil except to say it's bloody enjoyable and watching the band roll this out is a delight.
Buy the album here.
Last thing I'll say is that Jen, the violin, the way you play it, is a lead instrument. It's clear here. So onstage, will you either turn the damn thing up or buy a racket making pedal.

- Pigasus

- Tim Hudspith and Goldentone


1/2 - Swamp Kitteh
Tags: tim hudspith