Ranking right up there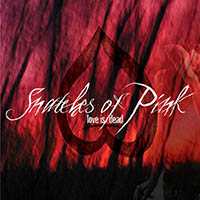 Love is Dead - Snatches of Pink (8th House Records)
This dude, Michael Rank, from Chapel Hill should be a big star by now, but you know how the sickeningly sucks shit, corporate muzak-biz only promotes sold soul, formulaic garbage pop, nowadays. His outstandingly funky solo CDs and various wild and sensual rocknroll bands (Snatches Of Pink, Clarissa and Stag) have made summa the most under-rated and soulful rocknroll of our generation.
He's a farmer, a father, a badass guitar player, a ballet dancer, and one of my favorite rocknroll vocalists, with a voice that is sometimes reminiscent of Jakob Dylan's whispery folkish croon, or naked and vulnerable as Curtis Mayfield or D'Angelo, or as dirty-beautiful, get-down raunchy, first take, Marlboro belligerent and untamed as Bryan Small or Alice Cooper. He's one of Murkkka's only remaining rockers who can sit at the same end of the bar as most of our Australian brethren.
If you've been moping around the basement, fretting about the disintegration of your private future, and all your dreams that can't come true, in the time of death plagues, evictions, wildfires, murderous police state fascist face-stompers, rigged elections, and dead homies, while helplessly looking for vintage artifacts to sell online for holiday money, one prized relic you probably can't bring you desperate self to part with is Snatches Of Pink's sensational CD, "Love Is Dead"!
The first song, "Rocks" does just what it's supposed to: It comes barreling outta your speakers and tries on all your velvety threads in the mirror, passes you the bottle, tells you to take a big line. It's followed in rapid succession by 14 more scorching tunes, infused with so much genuine pathos, pain, lust and emotion, it'll remind you of every band of solid gold hellions you ever loved from New Barbarians to the Hangmen to Dogs D'Amour and Beasts Of Bourbon.
The guitar-player on this sucker. Marc E Smith, is white hot and very adept at creating atmospheres - like Smack, Thee Hypnotics, Rowland and the Beasts. He really knows how to set a mood and film a scene; it all feels so intimate and warm that weathered old rockers such as myself can not help but feel at home when this disc spins. It takes you back, and like I said, Rank's voice is as bluesy and guttural as the Crybabys or Coma-tones, but then, he'll do a crazy sad ballad and move you close to tears like some long lost Rolling Stones track from the mythic Mick Taylor era.
This record's old (2007) but it's 15 shots of gold, but way better than most anything I've heard in recent years. If you liked some of the druggy atmospheres and sleazy textures of Royal Trux or Jon Spencer, but always kinda felt they were sadly lacking in the actual songwriting department, you'll dig this stuff thoroughly, 'cause it's got that candle-lit ambience and decadent dopehouse vibe. It reeks of real heartbreak and nasty habits galore, but comes with all these redemptive melodies and visual poetry and a lot of aching confession and unselfconscious soul power - like Lazy Cowgirls or the Sweet Things.
If you look around this world, at all the sudden death and doomy hopelessness and you're mourning the passing of Dave Kusworth and Walter Lure and Prince and Bowie, the illusion of democracy, and your own long lost youth, etc., etc., here's one of our last standing rocknroll motherfuckers who does not waste our time with half ass rehashings of the past. You'll glimpse all the good ghosts dancing in the sonic flames, but it's always unique, distinctive, and fresh sounding : invested with his own original expression.
If you play this sucker loud, it will make you feel better, less alone-like someone out there still "gets it". He's a real hot stuff "Tattoo You" soul brother and "Love Is Dead" will instantly make you feel more alive. Four dollars for a pint of ghetto vodka. Fifteen fucking perfect songs to console the crazy and the downhearted, and all the grief stricken rocknroll people, who are isolated, alone, fearing for the future, trapped in the poverty spiral, worrying about estranged loved ones they can not save, and recognizing they can never go back to the better times and places that keep dissolving before our horrified eyes.
If you know it ain't gonna get much better, but you wanna hear some real good music to ease your weary heart, "Love Is Dead" is a righteous introduction to the prolific discography of Michael Rank and friends. Genius stuff!

Tags: michael rank, snatches of pink, chapel hill, clarissa