Blues Trash - Reverend Beat-Man and The New Wave (Voodoo Rhythm)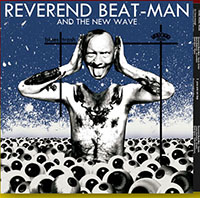 After 30 albums or so under a variety of monikers, Beat-Man could take the easy way out and keep churning out records of garage skronk. You know, music to kill any party, as the label slogan goes. Instead, he's continuing to take chances.
The Swiss madman's brief with this project was simple: Pick a collaborator and play them a song once. Set the tape running. Use the first or second take. No overdubs. No arguments.
The Reverend describes the album as "a mix of blues trash, new wave folk and dark no wave garage punk and rock'n'roll". No arguments. Stylistically speaking, "Blues Trash" IS all over the shop. The bands behind him and his friends range from minimal duos to full-blown folk groups.
Most people won't have a clue who his guest players are so let's clear that up. Nicole Izobel Garcia is a Los Angeles native with a Mexican heritage and an ace voice that gets right to the point. She plays along on organ and percussion. Mario Batkovic is a Swiss-born, German-based avant-garde accordionist who specialises in film scores.
Another Swiss expat, Julian Sartorious, is a jazz drummer extraordinaire whose credits include work with Faust, Marc Ribot and Arto Lindsay, while Resli Burri is a multi-instrumentalist with the Dead Brothers with a bunch of film soundtracks under his belt.
And the songs? Let's have a dig in this here crate…
"I'm Not Gonna Tell You" might be the filthiest fuzz-punk you'll here this week or any other. Nicole Izobel Garcia's scuzzy synthesizer adds to the general sense of mayhem. Beat-Man's characteristic guttural vocal seems more unhinged than usual. "I'll Do It For You" with Mario Batkovic and band is uncharacteristically breezy Gypsy pop. Beat-Man's vocal is unrecognisable.
"You Are On Top" is a pop song that won't get played on radio soon. The Reverend sees to that. He reverts to his semi-croon on "If I Knew" where Ms Garcia employs her best Alan Vega organ to grand effect.
"Today is a Beautiful Day" is (of course) funereal while"The White Wolf Is Back In Town" owes much to the Cramps and Matteo Brodin's wonderfully greasy saxophone. "But I Love You" is a minimalistic duet where Nicole Isobel Garcia's soulfully warm vocal runs headfirst into Beat-Man's Crypt Keeper croon - and the impact is surreal.
"Then We Gonna Die" probably had a positive message under that industrial harmonium hum but Nico's no longer around to deliver it. Beat-Man attends to that with lyrics about "fanatics chopping heads" and "Satan creeping up my spine".
You love musicals? "Sound of Music" was set on the Austrian-Swiss border. If the memory of Julie Andrews isn't permanently wiped from the world's collective memory bank by "Love Is Simply a Dream" then Beat-Man isn't being heard widely enough. That one and "Lass Uns Liebe Machen" - a cover of a Goth artist called Unheiiiig that translates as "Let Us Make Love", I'm told by Google - manage to end the album on a grim note. Beat-Man's croak set to a dark plod. Whassup? You expected a choir?

Tags: beat-man, dead brothers, voodoo rhythm, new wave, reverend beat-man, Nicole Izobel Garcia, Mario Batkovic, Julian Sartorious, Resli Burri