Rotting Out - Black Heart Breakers (self released)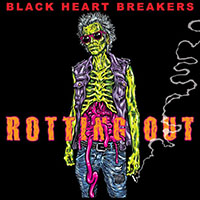 Only an old fart would start a review with the statement: "Everything old is new again."
But it is really just to say that way back in the early '90s - when big festivals like the Big Day Out involved more people playing musical instruments than laptops - there was a rash of Californian bands pushing a brand of punk rock crossed with powerpop and ska that dominated stages and airwaves.
The Offspring were inspired by seeing Social Distortion at a school dance, The Bay Area's 624 Gillman Street scene spat out Green Day and Rancid occurred after someone from Operation Ivy watched too many Clash videos. You know the rest.
The point being that each of those bands mirrored a long line of predecessors but managed to mould high-energy with pop smarts, to varying degrees, and reach wider audiences. Which brings us to Black Heart Breakers.
Like California now, the southside of Sydney isn't much of a rock and roll place. This wasn't always the case. Cue: Misty eyes and cloudy memories blurred by beer. The Sutherland Shire was a hotbed of bands and rooms back in the '80s. It was all over when Black Heart Breakers formed there just four short years ago, with the sounds of Cheap Trick, Ramones, the Beach Boys and Social Distortion ringing in their young ears. Throw in some ska pop and, like apples and trees, the band doesn't stray far from its influences.
With a string of impressive supports behind them (Marky Ramone, Radio Birdman, Ruts DC and Stiff Little Fingers), the "Rotting Out" CD EP follows an album and a vinyl six-tracker.
It deserves to be heard. You'll know as much when your ears make contact with "Melody", Ramonesesque punk-pop and the pick of this litter of half-a-dozen with its relentless feel and tight harmonies.
"Save Me" features boys-on-the-hill-at-Shark-Park backing vocals married to high-energy guitars and a not-so-sly Ramones reference. Not that there's anything wrong with that.
"Angels Take Me Away" walks on the pop side of the street and underlines that these boys can write as well as play. "Burning Out" crosses into ska-pop with a syncopated breakdown and horn section adding colouring. That one and closer "Giving Up" donlt do much for me but millions of kids may yet make that opinion irrelvant. In a just world, Black Heart Breakers will be huge.
Producer Daniel Antix has pulled a well-rounded, punchy sound and energetic performance. Which is his job. Maybe a touch too slick for these ears but not for sane radio programmers, if that isn't too much of an oxymoron.
Rock and roll's base is shrinking fast but there's still room for young bands who believe. That's what you can really hear on "Rotting Out".

3/4
Tags: powerpop, punk rock, marky ramone, black heart breakers, rotting out, ruts dc