Salt of the (scorched) earth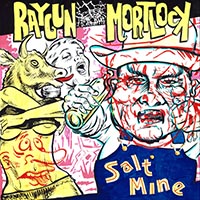 Salt Mine – Raygun Mortlock (self released)
There's a lot to be said for bands that exude an aura of dysfunction. They're way more interesting than manufactured corporate whores or prissy private school prats whose parents bought their instruments.
Raygun Mortlock recorded this EP in Melbourne a couple of years ago and promptly forgot about it. The band didn't exist for five years before that. Before COVID, they didn't play much outside its home of Far Northern New South Wales with Brisbane being the extent of their touring ambitions.
The band's recorded output is skinny but don't let that put you off. This is primo noise rock that recalls likes of the Jesus Lizard, TAD and a host of other contenders from 20 years ago.
The slinky bass-line that opens "Gor-don's Pit" quickly gives way to a firestorm of guitars. James Doyle's ominous croak is buried in a sonic morass that would give latter-day Black Flag a run for its money. Where Greg Ginn stole Sabbath riffs, Tim Strong indulges in dive bombing runs to take the song out.
Doyle has been playing in notorious Brisbane trippers Pineapples From The Dawn of Time and "Salt Mine" sounds like some of whatever they've been snorting for 35 years rubbed off. The momentary psychedelic discordant edge is overwhelmed by an avalanche of guitar and a vocal rant.
"Sex Offender" is a semi-metal, grinding oaf of a song that sounds as brutish as its roll-call of luminaries, which includes Rolf Harris, Harvey Weinstein, Roman Polanski and a politician from closer to home. It's the pick of the litter.
Not sure who "Josh McDonald" is but the song of the same name sounds like he may be a past bandmate. Fuck me, when this one plays his ears must be burning like cupcakes in an industrial kiln. There hasn't been a similar musical dissing since the Cosmic Psychos spat out "Kill Bill". The song rocks royally but it's doubtful that the lyric urging its subject to "fucking kill yourself" would pass muster in vulnerable company without a chorus of trigger warnings.
It's a 10-inch EP that's been out for a few months, so only a handful remain. Move fast here to get the sexy transparent platter or else resign yourself to listening to the digital version.
Raygun Mortlock's output prior to this was a CD EP and a split single. Tell them to get fucked if they don't record a full album.

1/2
Tags: raygun mortlock, salt mine, noise rock