Seizure Salad - Juliette Seizure & The Tremor Dolls (Off The Hip)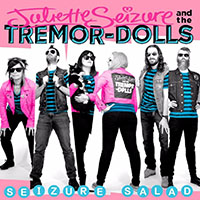 The new Juliette Seizure & The Tremor Dolls album is dripping with bubble gum pop, big riffs and fabulous vocals.
It's a combination that has to make "Seizure Salad" a surefire winner on the live pub circuit. It's just made to be played to drunken punters on a Saturday night, and it's a perfect follow up to last year's "Chewing Out Your Rhythm On My Bubble Gum".
"Seizure Salad" finds the Tremor Dolls evolving their sound without losing any of their influences (the Ramones being the obvious one.) This six-piece Adelaide outfit has been refining its chops overseas, with a tour of Japan under the belt, in-between hitting as many Australian pubs as possible.
And the songs? "Wasted On You" is one fine tune - just turn this baby up. It rocks on the back of huge guitars rolling drums. It's a near perfect track.
"Out of My Head", "Make Me Sick" and "Hot Dog" (also covered by the Detroit Cobras) bring all the grooves, mixed in with a solid, no bullshit, rock 'n' roll sensibility.
I'd go as far to say there is not one bad track on "Seizure Salad". It's one happy album, full of fun tunes great playing. Importantly, there's no overproduction; just like this review, it's quick and clean.

This record is a little gem - and I've got to make the effort to get to one of their gigs one day. It's on my bucket list.







Tags: bubblegum, juliette seizure & the tremor-dolls, seizure salad