Seven Mutants walk into a bar...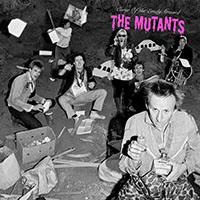 Curse of the Easily Amused – The Mutants (Liberation Hall)
The Art Punk genre is a mixed bag. Throw in a New Wave descriptor and the name can refer to anything, really. So if you're confused approaching this retrospective collection by a late '70s San Francisco band, be not alone.
At last count there were enough bands using the name The Mutants to fill a large tour bus. As well as Art Lyzak's '70s Hamtramck, Detroit, outfit with Bootsey X, there was a Pink Fairies-inspired Merseyside, UK, combo and a 2000s supergroup featuring Rat Scabies. There's even an instrumental Finnish band, so there's been a whole lotta mutating goin' on.
These West Coast Mutants sprang from the same diverse scene that had already spawned Flipper, the Nuns and the Avengers but took a more artful approach inspired by the trash films of John Waters and the vibe of Andy Warhol's Factory crew. Which doesn't mean they sound anything like the Velvets.
Got your bearings yet? The Mutants opened for The Cramps on their notorious 1978 Napa State Mental Hospital gig and would have been the supports for Joy Division on their first US tour, had Ian Curtis not checked out a couple of days before an airline expected him to check in. Fronted by the quavering tonsils of Fritz Fox, alongside fellow singers Sue White and Sally Webster, The Mutants were what happens when seven art school students walk into a bar and pick up instruments.
The band's first two releases appeared on legendary Bay Area indie label 415 Records. Their only LP, "Fun Terminal", followed on Mutiny Shadow International. All of that output appears here, albeit in re-mixed or superior sounding sources.
"Curse of the Easily Amused" is an archival set of 14 songs, all re-mixed or issued in different versions. Eight are previously unreleased. Avant garde guitarist Snakefinger and Go Go's mentor Paul Wexler produced various tracks.
There's a simple punk charm in the music of the The Mutants, who come across as a less quirky version of the B-52s crossed with Scotland's Rezillos and Australia's Thought Criminals. Almost no keyboards, guitar often mixed low and shared guy-girl vocals bouncing off each other. Not much buzzsaw riffing and nowhere way out there as the first incarnation of the similarly artful Destroy All Monsters.
"Give us some of your drugs," implores Fritz Fox on opener "Party". No idea if the request worked but a 'please' wouldn't have gone astray (just a joke). On "Modern Conversation" Fox sounds like a less pretentious David Byrne with a head cold.
The driving "Tribute To Ross Meyer" is the best sounding track, borrowing a bit from Link Wray to get its point across. "Love Song" is straight-forward jangle pop with a cutesy chorus. "Think Think Think" has a Devo bounce to it and an darker undertone that works well.
In the end, however, the songs aren't that compelling and as with most art punk, you probably needed to be there to get the jokes. One for the fans.

Tags: san francisco, joy division , the mutants, Curse of the Easily Amused, liberation hall, art punk