Shimmering malevolence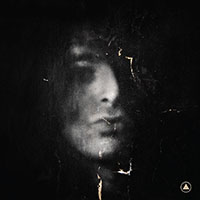 Mutator - Alan Vega (Sacred Bones Records)
"Mutator" is Alan Vega's 12th solo album and also his first posthumous record of (apparently) several more to come on Sacred Bones Records. Vega also released nine collaborative LPs in his lifetime, Suicide a total of five studio and five stand-alone live albums (not including a rather incredible box set). Not a bad innings at all.
The I-94 Bar's Bob Short once observed that most people don't get into much music past their 20s, and I agree; and Suicide are a classic example. Of the people who fell head over heels for this outfit when they first heard their first LP (I still remember where and when I heard it, and also when and where I heard a UK bootleg of the Clash support gigs) most seem to rave only about that first LP, but seem unaware of the second, or even the ROIR tape, or any of the band's later LPs.
Of Vega himself, only a handful seem aware of the extraordinary impact his first two (now unavailable) LPs had on the underground, and the overground impact his third, "Saturn Strip" had, particularly in Europe.
I know you're scratching your head right about now, muttering something like, "Hang on, didn't Vega die a couple of years back?" Well, yes, he did. "Mutator" was borne of many recordings that Vega made with his wife, Elizabeth 'Liz' Lamere, who he met in the late 1980s. I filched a quote from the New York Times; "People think Alan sang about gloom and doom, all this negative stuff," [Liz] said. "There was always a layer of beauty and hope in everything he did."
I also filched a quote from the Brooklyn Vegan (no, really) website:
"Alan was driven to create, his focus always on looking ahead to discover new terrain by experimenting with sound and visuals. He rarely looked back at what he had done before, and as soon as he was moving in a new direction it became a relentless pursuit of the unknown", Lamere says.
"Our primary purpose for going into the studio was to experiment with sound, not to 'make records.' I was playing the machines with Alan manipulating sounds. I played riffs while Alan morphed the sounds being channelled through the machines", Lamere says.
"At the time of the Mutator sessions, Vega was massively inspired by what was happening in the streets of New York - not only the hip hop scenes that were exploding throughout the outer boroughs, but also the literal sounds of the streets, the traffic noise and industrial ambience of city living. That influence trickled into the sounds he and Lamere captured in those sessions."
The recordings which make up "Mutator" took place during 1996 through 1998. Lamere and Vega's close friend Jared Artaud (The Vacant Lots) discovered' the tape, worked on them and mixed them into an actual album. So, with all that in mind, perhaps the best entry point is to completely ignore Suicide, and Vega's actual context, and his back catalogue ... yeah.
Let's just listen, shall we?
"Mutator" opens with "Trinity", a brief evocative parody of the reality of Catholic guilt; as with all things Vega, it reeks of the epic. "Fist" follows, a sinewy synth squall Vega's trademark dank Elvis voice. Evocative isn't the word.
The entire LP embodies what made Vega's work so distinctive- meditative musing mingled with pithy observations and suppressed outrage set to a repetitive, often unsettling beat. For all Elvis' ability to communicate with his fans, he really only did one song (to my knowledge) which hinted at anything like social observation (Nick Cave covered that one); by contrast, almost everything Vega did seems rooted in the broader world around him, teeming with life, betrayals, struggle, redemptions, reunions and failures. In many ways, although I do love Swans, Vega is less narcissistic and holds more appeal for me.
I will add that, while Suicide records and performances were always intended to create a visceral impact on the audience, Vega's own work has more to do with communication and evocation. There's a great deal of beauty shot through with a sort of shimmering malevolence on "Mutator"; on the one hand a music historian might argue that it's very much a record of its time, but that's just lame. "Mutator" reflects skeletal narratives (like casual street encounters) in which you have to fill in the blanks yourself - all great records pretty much compel us to do this.
Other than to say that the last track, "Breathe", delivers especial resonance in this stupidvirus era, I won't go through all these songs just for you. Listen to the first four tracks. If you're not on board by then you never will be. Reviews of the LP have been mixed and confused, to say the least. I mean, jesus, the NME is unbearably lame these days, you know?
Comparison? A more literate, compassionate, astute version of "Koyaanisqatse" (1982). You'll recall the word translates as "life of moral corruption and turmoil" or "life out of balance". While the film still stands, it's not something I'd care to watch more than once every 10 years, while "Mutator" I can listen to multiple times per year. Yes, it is that good, but ... you know. It ain't for everyone. Any more than Suicide is.



Oh, and P.S. If you're still hankering for more Suicide, not Vega, the NY Times piece continues...
"Mutator" "is the first in a planned series of archival releases, drawn from what the singer called "the Vega vault," that will be issued by Sacred Bones Records. The vault, a vast catacomb of Vega's writings, paintings, drawings and music, includes a cassette tape that Artaud calls "the Holy Grail of the archive": a soundboard recording of Suicide's September 25, 1971, performance at Lincoln Center."
Tags: new york punk, suicide, alan vega, martin rev, mutator, sacred bones records, liz lamere