Shine - E.T. Explore Me (Voodoo Rhythm Records)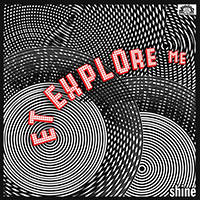 PLAY REALLY FUCKING LOUD!
It's rated 15 beer bottles. Out of five. Classic, fucking brilliant disc. Starts with a genre, fucks it over and you end up, amazed and wild-eyed, at the end of the night, guzzling from a bottle of polish spirit and yowling at the moon with irate citizens throwing the contents of their chamber pots ... OK.
First, E.T. Explore Me is possibly the perviest name for a rock band ever. Never mind 10CC or the Lovin' Spoonful, that's just wilful boys will be boys stuff. E.T. Explore Me, I mean, ew.
In fact, E.T. Explore Me, EEEEWWWW!
So, WTF? Most bands monitor their Wikipedia page ... but their page is well and truly out of date, which would explain why this Dutch band still don't have a Wiki page in English. Here's an introductory quote;
"The band is one of the acts that come from the Irrational Library, a Haarlem artist collective led by the American Joshua Baumgarten. The dirty sound of the trio is mainly determined by the frequent use of fuzz pedals and an acetone organ. In the early years of the band the performances mainly took place at Irrational Library evenings in and around Haarlem."
Good, you've figure that this isn't the Harlem of Apollo Theatre fame, but the Haarlem that Harlem was named after. "Shine" was also issued on Suburban, so you may already have it. But, this is Australia, and as Sydney appears to be in End Times (with only four years to go before The Rapture), there's every chance this is the first you've heard of E.T. Explore Me, never mind their debut LP "Shine".
And, in case you were thinking, "Pah! it's just a reissue," the band say on their Facebook page, "To be clear, it's the international release of the former release. Different cover, different master, same songs ... we are working on a new album nonetheless ..."
Let "Shine" be your introduction to E.T. Explore Me (and stop thinking about E.T.'s phone fetish, that's disgusting). Meanwhile, E.T. Explore Me have been playing live for - I am told - a staggering 18 years - this is their first long-playing CD. Here's a couple of links.
"Let me in" is the first song:
and here they are live...
Got it yet? They leave the pack behind. There's not a dud song here; you can safely put this "Shine" thing on at a party and the punch bowl will empty rather swiftly.
Put simply, rock'n'roll with energy, power, brute force, a big horrible organ sound, what sounds like a maniacal orangutan on kettledrums, and a wall of fuzz filling up any gaps. Oh, and a singer who dug up Elvis and imbibed the remains. The first four songs come at us like Leatherface on bad acid, and the fifth, "Soulbleed", is a menacing junkyard dog heading in our direction.
And then "H.2. Statue" takes us in another, utterly huge, direction which reminds me of (FFS) Einsturzende Neubauten. Fucking brilliant, and I've said enough. 'H.2. Statue' would be the last track on the LP. The tracks are superbly chosen. I'll leave the second side for you discover...
I don't usually do comparisons, but just to give you a few clues, fans of early Cramps will like this, as will anyone who dug the Monks, and Rocket Science; fans of the Devil's Jukebox show on 2NBS will beg for the frequent inclusion of E.T. Explore Me.
Big shout-out to the Reverend Beat-Man for issuing this and saving all our lives in the process.



Tags: where the faces shine, voodoo rhythm, e.t. explore me , harlem