Soft – Songs of Love. Distance & Destinations – Fast Cars (Method Music)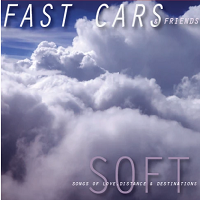 In case you haven't noticed, trans-global duo Fast Cars kissed their mod past goodbye a long time ago. moving into dreamy shoegaze and pop-psych. On their second full-length album, "Soft – Songs of Love. Distance & Destinations", the core of Di Levi and Fabian Byrne has staked its claim on folk-pop.
"Soft" leads with the A and B side of the seven-inch single that preceded it. "Real Love?" and the slightly acerbic "Stainless" grow with each listen, reverberating with echoes of Britpop and the faintest strains of the Church. It's Di Levi's elegant vocal that's the distinctive take-out here and that rings true for all 13 songs.
Expect no in-your-face rockers on "Soft". Fast Cars are aided and abetted by an array of guests in Australia and the UK and there's some quality playing. Melody lines and musical textures abound. On this one, Fast Cars seek to beguile rather than badger.
The last album "LAX" never moved far from the head shops of the US West Coast and that's where a song like "Space County (Monaro)" lands - even when it's about the rolling hills of New South Wales around Canberra. Sharp guitar lines, courtesy of ex-Lonleyhearts guitarist Tom Watson, provide the electric spark that brings the song to life. Add a splash of banjo and Di's haunting vocal and you get the idea.
Things drift in the middle: "Precious" is so gentle and unpropessing as to border on twee. "Stems (Do You Know Me Too?)" is understated and "The Tide" is baroque and just a little obscure for these ears. "My Destination" is a minute too long but is saved by some nice guitar in the outro. Closer "And So I Whisper" moves sideways into strings-tinged country territory and does wind things up nicely.
The folk thing bcomes a little too pervading. The problem with ethereality is that all those clouds start to look the same after a while and you float away. So it is with too much of "Soft". In the end, Fast Cars manage to avoid hypoxia (look it up!) with a few deep breaths of guitar. The landing might be too gentle for some but the promise is that the next record will be called "Hard".



Tags: method records and music, fast cars, fabian byrne, di levi, soft