Suburban musings provide fuel to this fire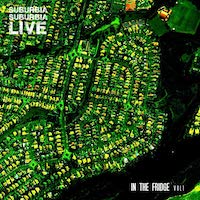 In The Fridge Vol 1 - Suburbia Suburbia (self released)
Biting satire and blues rock make a happy couple. Suburbia Suburbia know the value of three chords and a bucketload of wit and employ both on "In The Fridge Vol 1".
You could call Suburbia Suburbia yobbos. They'd shout you a beer for it before they'd thump you. It's stating the obvious to say Australia's bogan rock heritage had its origins in the "suck more piss" bluster of Billy Thorpe and the Aztecs and lives on through Cosmic Psychos and Amyl and the Sniffers.
Suburbia Suburbia are gnarly old hard-heads who have been around the Australian live music block a few times. With a grounding in sticky carpeted pubs across Sydney, Brisbane, Toowoomba and the Gold Coast, they don't so much take the piss out of suburban culture as revel in it.
Configuration: Suburbia Suburbia are two guitars, a vocalist and a blues harp player. They have a bottom end that throbs. It plays songs from the 'burbs for the 'burbs. The band'even wants to know if venues desiring Suburbia Suburbia's presence permit punters to wear thongs.
Vocalist Tony Townsend is best known as a music booker, band manager, frontman for hard rockers Blow and mine host at the late and much-lamented Sando pub in inner-western Sydney, but his pipes are right up to the job of giving voice to Suburbia Suburbia's songs.
Brad Batham is especially nimble on bass and he and drummer Noel Gardner excel at anchoring it all to the floor. The harmonica of Alan "The Kroc" Lyon is omnipresent, if somtimes buried in the mix. Justin Sykes on guitar is as solid as a brand new Colorbond fence, but sometimes lack the tonal differentiation that could have lifted the songs to the next level.
The eight songs on "In The Fridge Vol 1" are observations on the mundane and the mendacious. Tales of share houses, bus trips, shit bosses and shittier pay. Wry, sometimes grim, humour dribbles off them - just like sweat from last night's pub session as you labour over the Victa. There's the occasional lyrical blind alley that might have you scratching your head but most of the time, you'll get the drift.

Musically speaking, "In The Fridge" will sit under the Oz Rock umbrella for most folks but there's a bit more happening if you listen hard enough. A touch of the early Alice Cooper band props up in songs like "The Bruce Hwy Elbow" and "Boss Said Your Gone", while "Tall Building" recalls The Angels. "No Fights At This BBQ" sounds like '80s solo band Matt Taylor. Suburbia Suburbia stand apart from the 4/4 chugga-chugga-thump crowd.
The whole shebang was committed live to tape at Kicks Iron Studios in Byron Bay and you can score a vinyl copy here.



1/2
Tags: oz rock, byron bay, suburbia suburbia , in the fridge , bogan, aussie, kicks iron studios