Tear Your Minds Wide Open - The Galileo 7 (Damaged Goods)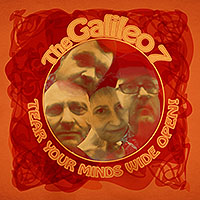 We're not claiming to be a "hip" or "cutting edge" forum at the I-94 Bar but here's the conundrum: No-one other than the readership of similarly backward-looking but worthy publications like Mojo or Shindig is going to know about The Galileo 7. And that's shit.
At the risk of sounding like a haughty communications lecturer talking to a bunch of undergrads, the more media fragments, the more isolationist its bubbles become. Which means, dear Barflies, that YOU have to dig deeper to find stuff that's not disposable, commodified or bland.
The Galileo 7 is none of the above.
This is Album Number Five for this fine UK combo (four studio and one live) and it's full of driving, freakbeat-flavoured, psychedelic garage rock and roll. The band has pedigree, with members drawn from The Prisoners, The Stablilsers and The Embrooks,
But before you go go all retro and reach for your Creation box set, give "Tear Your Minds Wide Open" a considered listen; not many current acts sound this fresh while mining such a well-prospected shaft. It's all in the songs and the unassuming production. No volume wars or polishing of turds here. It's uncomplicated and assured.
Allan Crockford's guitar shares the front of the soundscape with Viv Bonsels' driving organ. Crockford handles most of the vocals, pitching his case warmly, with the rest of the 7 joining in the background. Drummer Mole's "moon shot" explosive fills are underpinned by a sure-footed backbeat, and there's not much wrong with Paul Moss's propulsive bass work, either. Allan Crockford might have made his name as a bassist but his guitarwork is first-class.
But the songs are where it's really at. From the rush of "Cold Hearted Stowaway" and "Mystery Train" to the CD only opus "The Girl In The Glass Case (Beta Version)", these are classy tunes, rendered superbly. "Live For Yestefday" has a killer retro pop sound that's just right for enlightened radio.
"One Lie At a Time" encapsulates all that's great about The Galileo 7: Surging keys, insistent vocals and a hooky chorus with a cranked-up yet concise lead break. Drum fills littering the place.
Take your choice between digital and LP (with accompanying CD) and you owe it to yourself to give it a listen.






1/4

Buy it

Tags: garage, powerpop, freakbeat, galileo7, damaged goods, tear your minds wide open