The Clinch packs a punch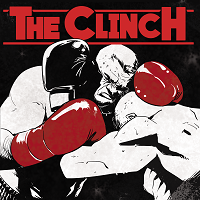 Basecamp - The Clinch (OSU!/Sunny Bastards)
Hello Barflies. The Dimboola Farmhouse has been rocking to the new album from Melbourne punk rockers, The Clinch, of late.
The Clinch is the band, "Basecamp" is the new album, and does it smash you right in the face, make your ears bleed and keep you wanting more.
The Clinch are five hardcore punks with a sound that pay homage to the old East End of London. In terms of sound if not geography, both Rancid and The Exploited come to mind. Luke Mathews and Andy lynch attack their guitars with some of the hardest playing my ears have heard in years. Sam Barker (drums) and Brendan McRea (bass) smash the shit out their instruments with gutso. What a band to have behind you.
Steve Bunch sounds like the perfect frontman for this music. His singing (if that's the correct word) is like an ounce of weed going through a coffee grinder with gravel in place of tobacco. it's a punk rock voice that takes no prisoners and I, for one, love it.
"The Chariot" is an oi oi blast that kicks off the record and sets it up. Great tune. "Red Stone Cave" has those guitars locked in a twin attack – just like the classic Birdman line-up. "Common Goal" just smacks you with lyrics that are witty and relevant; "Bloody" has some power drumming, as does "Claymore". "Alone" is just classic old-school punk, but for me "The Knife" is the stand-out track. It's just so bloody good with strong riffs, a great bass-line and those vocals. WTF! What a tune!
"Basecamp" is the band's second album, following "Our Path" from 2018. It was recorded by Jason Fuller (No Class, King Parrot) and he's done a wonderful job getting this band's full sound down. They must have had a ball recording this.

You might have already had the pleasure of seeing The Clinch supporting Cockney Rejects, The Exploited, Stiff Little Fingers and Australian gods B. If not, there is a gig coming up on April 18 at the Bendigo Hotel in Collingwood, Melbourne, for the album launch, and there are some great bands also on the bill - No Class The Stripp, just to name a couple. I am very much looking forward to being escorted by Queenslands Gig Queen for this most awesome night of Rock 'n Roll'/ Punk Rock. Earplugs will be needed.
So in summing up, this is a must for any lover of old school punk.

Tags: punk rock, the clnch, basecamp