The Explosive sound of Swedes with loud guitars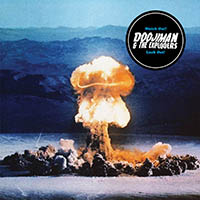 Watch Out! Look Out! - Doojiman & The Exploders (Heavy Medication)
Dunno about you but Scandirock was thicker on the ground in these parts in the 1990s than dandruff at a record collector fair. Doojiman & The Exploders are from Sweden and use a simple recipe of punk guitars from the garage, a sackful of strong songs and buckets of phlegm to attitude to rock the house down.
You gotta to be good to steal the title of a Stooges outtake as the name of your band and Doojiman & The Exploders are. There are traces of The (early) Hives, a less metal-ly Gluecefier and the venerable 'Copters, sans six-string histrionics, on this 45rpm, nine-track slice of vinyl.
Is it a mini LP or a maxi EP? Who cares. What's not for debate is that it consists of five tracks previously released digitally, the A and B sides of a single and two more cuts. It's all original - save the cover of Nobunny's "Apple Tree".
These Exploders are no newbies with two full-length albums to their credit. The line-up is hard to fathom (there are four heads on the back cover and five in band photos) but is the core of vocalist Doojiman and Woogie Wombach. "Woogie Wombach" also happens to be the name of the opening track and it's an arresting punch to the solar plexus driven by a dirty bass line, tinkling keys and a fistful of guitars. Its bottom end also swings - which is a bonus.
The guitars of "(I Wanna Go) Take Me Away" nag like a bar owner on an after-work promise enforcing last call. "Doojiwoman" may be the girl he's meeting and no wonder he's so hot to trot because her song is a keeper. This is one of the times when the guys out-Hive The Hives in their fforts to hook up with the girl nextdoor..
The record mixes things up on the B side and doesn't quite deliver the punch of those five lead-off tracks but it by no means loss its way. Some will prefer the change in pace. It doesn't get much dirtier than the squawl of "Gonna Get Wild" and many will tak to the faux folk oddness of a Nobunny cover like European rabbits to myxamotosis. Taken at face value, closer "Crippled Boy" is just nasty.

It's on orange vinyl, if you're colour conscious.





Buy it
Tags: punk, sweden, heavy medication records, doojiman , exploders, watch out! look out!