From out of iso comes the ghost who Walkers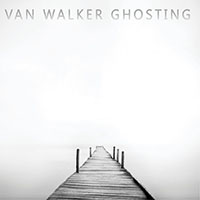 Ghosting - Van Walker (Green South Records)
The emerging artistic genre de jour of 2020 will be iso-art. Some of it will be insightful, philosophical and impressive; over in the bargain bins of artistic creation, there will be tedium, self-indulgence and vacuous expressionism. When the world shuts down, and even incidental social intercourse is legally and morally restricted, art follows.
Van Walker's new album isn't iso-art per se, but it's an album that resonates in a world characterised by isolation. Van, aided and abetted by his equally hirsute brother Cal, have been fixtures on the Melbourne music scene for around 15 years, since making the trip from regional Tasmania (itself a place of relative geographical and demographic isolation).
Having ruptured ear drums with their powerhouse rock'n'roll band Swedish Magazines, the Walker brothers moved on to the Teenage Fanclub-ish Livingstone Daisies, with Van churning out a succession of locally-championed solo albums (usually, with Cal in the mix) and segues into Delta blues with Goatpiss Gasoline. If Van Walker wasn't playing somewhere in any given week in Melbourne, it didn't seem right. And Melbourne is so far from right at the moment, it's impossible to quantify.
Van's lastest album, "Ghosting", is, in his own words, a different record, "the album I had to make", in point of fact. It's the break-up album, the album of personal loss, the social commentary album, the album when you cast your gaze around and realise that everything is not as you want it to be. We all like to think we've got control over some aspect of our lives; 2020 has forced us to face up to the fact that we were never in control, despite our long-held conceit.
Ghosting is country flecked with folk, with an injection of blues for good measure. The journey starts at a canter in "Above as Below", a quick stepping folk track as it should be: raw, honest, melodic, captivating, a wistful look at an emotional place that still looms large, if increasingly distant. "Spirit World" dials up the personal, and Van is the earnest protagonist; the happy times are ghosts in a darkened room of memories. "Nobody Knows" pulls off the Brian Wilson-John Lennon trick of creating a sprightly song that almost convinces us that things are OK; the theme of environmental destruction might be literal or allegorical, or both.
"Long Night's Journey" is the Sunday night melancholic lament, standing around the piano, with a dash of pedal steel to affirm the mood. "Borderline" shuffles down south and gets dancing, looking, yet again, for a lost emotional connection. The 10-minute opus of "Crystal Ball" is haunting to the point of psychological desolation, a man, a bottle of whisky and a cello backdrop that takes you to the edge, but is strangely comforting.
Through the blackness of "Land of Shades" you can hear the sun coming up in the morning, if you can bear to open your eyes. "To Be Sure" is an outpouring of love, or is it regret and remorse? And when you hit the road on "When You Were Mine", things seem to be improving, or is it just denial?
On "Drifting Too Far Shore", the memories are drifting away, as a melancholic funk descends. "Long Gone" is goodbye, a lost Don Walker track if ever there should have been. "The World Goes On Without You" is resignation, through misty eyes. "Closing Time" takes us down to the Delta, with all its attendant alcoholic lyrical affectations and pedal steel spikes, equal parts John Lee Hooker, Neil Young and George Thorogood.
The fondness and regret of "I Remember You" is palpable; those times were so good, if only we could remember them through the fog of booze and whatever else. By the time the album ends with the philosophical "You Know Who You Are", the spirit is both broken and reinvigorated. This is thanks, sorry and geez I fucked up, all rolled up into one.
There's going to be some seriously self-indulgent art hit the shelves and racks in 2021. And there is "Ghosting", perhaps the best Australian country-folk-blues record to emerge in recent memory.

Tags: melbourne, ghosting , van walker, cal walker, green south records