The Hot Sweets – Hello and Goodbye (self released)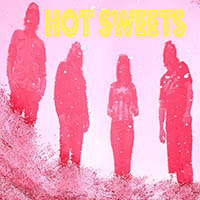 "Hello and Goodbye" is the debut album for The Hot Sweets, a short-lived Wollongong band that folded a couple of years ago. I'm here to tell you, there's a lot to like about The Hot Sweets, particularly if melodic garage-rock/power pop be your thing.
Yet that catch-all tag is only the tip of the iceberg. To better define The Hot Sweets sound you need to add in the following descriptors – likeable female vocals, melodic sensibilities, hard hitting riffs, infectious choruses and underscoring it all – pop hooks. For as I've written a zillion times, no matter what type of sound you are after, if a song don't have a hook – it ain't worth the paper it's written on.
A memorable hook only needs a few seconds to worm its way into your head, and damn if I can't find any songs on "Hello and Goodbye" that are anything less. There are 11 tunes on "Hello and Goodbye" and all cut the mustard.
There is a conscious descent into the mid-'60s with the band; they're straddling a retro-jangle, garage pop sound that relies on Pretty Things/Stones-like guitars held together by melodic and catchy hooks. Yet the songs still sound contemporary. This was a formulae that bands like the Stems, Hoodoo Gurus, Ups & Downs etc used to maximum effect.
What separates this band from the rest of the field however, are the vocals of frontwoman Carrie Phillis (Carrie Phillis & The Downtown 3, The Booby Traps), who comes on like a cross between Ronnie Spector and Shakin' Street's Fabienne Shine, her rich vocals compelling in their appeal.
The efficient guitars of Stewart Cunningham (Leadfinger, Brother Brick, Asteroid B-612) are used to maximum effect, particularly on the rhythms. Cunningham is a way under-appreciated (in this country anyway) guitar player who has crafted some incredible and enduring rock 'n' roll with any number of outfits over the past 30 years. For the unacquainted, his body of work is worth taking a deep dive into.
The lineup is rounded out by an engine room comprising Reggie Screen (Leadfinger) on rock solid bass, and Craig Jackson (Brother Brick, Carrie Phillis & The Downtown 3) on drums.
Lots of tasty pop gems on display, from the opener "Coming Home" (complete with layered harmony vocals) to the hard hitting and frantic "Take Me", which sees Carrie Phillis belting out the vocal over a gutsy riff. Monster tune and huge chorus. As is "Sweet Mama", a song that swaggers, grooves and moves between unadulterated power-pop and late-'60s Stones-isms. Super sing-along chorus with stellar harmonies throughout. This is a radio hit waiting to happen.
From a veritable pop assortment, take in the discerningly dreamy acoustic sounds of "Let Me Try" or the choice cover of the Stones' "Under My Thumb". How about the immensely appealing rendition of The Ronettes' "Be My Baby"? So engaging, it would no doubt get the nod from Joey Ramone. This is an ambitious song to attempt, but The Hot Sweets nail it.
Phillis has an undeniable vocal similarity to Ronnie Spector, and with Cunningham's backing vocals, hand claps and acoustic guitar – it all comes together. For those who remember the Daniel Rey produced Ronnie Spector EP from 1999, "She Talks To Rainbows", you will dig this.
With its sweet melodies and tasteful guitar lines, the super catchy "Believe Me" is nothing short of supreme powerpop and the albums high point for me, but as I mentioned at the outset, all 11 tracks on this album score blue ribbons.
In a Utopian world, a band like The Hot Sweets would be on a major label with decent distribution, promotion and radio support. Yet as we all know, the reality of the modern music biz - where art intrinsically has no value and the consumer expects it for free - is something else. However you, good reader, can do your little bit by donating a few dollars to the band via their Bandcamp site. It's a small price to pay – for big sounding powerpop.


Tags: carrie phillis, booby traps, asteroid b612, brother brick, hot sweets, stewart cunningham, reggie screen, craig jackson, hello and goodbye