The Past Came Callin' - Pat Todd & The Rankoutsiders (Hound Gawd!)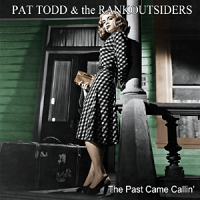 Americana is a term that excuses all sorts of sins. It's so sweeping as to be meaningless - and it's been homogenised to the point of dross - so let's not speak of it again.
Some folks call Pat Todd "Americana" and it doesn't remotely cover what he and his Los Angeles-based Rankoutsiders play. They've been tagged "Mellencamp with the Les Paul turned right up" by one reviewer, which is a bona fide compliment if you ignore the stuff that charted in Australia…
So, the fifth Rankoutsiders album, "The Past Came Callin'", is rootsy and muscular rock and roll, an amalgam of rock, country, blues and everything in-between, and a contender for their best yet.
What makes the 14 tracks on "The Past Came Callin'" stand out? The songwriting, for one. Pat Todd doesn't do mawkish sentimentality and writes from the heart. These are a mix of old and new songs, stories about relationships and crimes - which we all know are sometimes one and the same thing.
The surging, urgent guitars of Nick Alexander and Kevin Keller are another distinctive plus. Like Thunders with a clear head or Keef with a new-found dose of inspiration and less noodling, these guys make you take notice of every lick and steamrolling riff.
Combine all of that with a rhythm section that locks into a groove unobtrusively, Pat's matter-of-fact vocal, acoustic guitars and the occasional burst of greasy harmonica and you have the makings of great bar band music.
Some people use "bar band" as a term of derision. Wrong. It's a compliment of the highest order. Bar bands are what rock and roll should always be about. Relatable and real. Few if any barriers between band and crowd. Keep it on a stage small enough to feel the music, not just hear it.
Todd's past band The Lazy Cowgirls were trailblazers for West Coast cow-punk and that influence continues. It's most noticeable in the licks that punctuate "Somewhere Down The Line" (and that should be no surprise – it's a Lazy Cowboys song) and shows up elsewhere, but "The Past Came Callin'" is unmistakably a rock and roll record.
You want murderous intent? "The Ring, The Bottle & The Gun" (sung by guitarist Kevin Keller) is better than anything on ol' Nick's "Murder Ballads" record. Long distance love? "Call You On Saturday Night" fits the bill.
A couple of select old-time covers ("Down In Old Boerne" and Stax soul number "Any Other Way") are seamlessly owned by the Rankoutsiders. "Yeah, Ya Had a Bad Night" employs more of that R 'n' B strut to lethal effect.
The semi-acoustic "Just Between You and Me" serves as the album closer is as naked and raw as they come.
If you're looking for power ballads and cheap laughs, look elsewhere. Pat Todd and the Rankoutsiders play it dirty and raw in much the same way as (Australia's) Ian Rilen and the Love Addicts did, with a streak of honesty as wide as one of those L.A. freeways.
Patt Todd and the Rankoutsider don't make dud records. Click that link below and find out if I'm wrong.



1/2
Tags: cowpunk, lazy cowgirls, pat todd, hound gawd records, rankoutsiders, the past came callin'