The Pop Group - Citizen Zombie (Freaks R Us)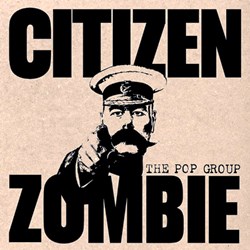 Well, I know several people who loved The Pop Group when they first bent my head in 1979, and they and the band all went on to other things fairly swiftly, it seems now, and the age of the UK music weeklies waned, and not being in UK, I confess I rather lost track of the ex-members.
So, an in-depth analytic comparison with 'past hallowed punk rock glories' ain't on the cards here. Most of my readers weren't attuned to this band … but that may be about to change.
C'mon, we're all older and uglier and for most of us gravity and metabolisms have not been as kind as we'd like. God, we were gorgeous. Weren't we?
The Pop Group weren't really. They were the aural equivalent of a feral musical idiot savant scampering through your weird Uncle Henry's record collection, grabbing a length of 4x2' dub, a triumvirate of drunken horn players, and the kind of guitar which inspired men like Rowland S. Howard to unleash a sonic holocaust.
The only way, the only honest way, to approach this new lp, their first in 34 years or something, is the same way to check out a new stereo system. You don't buy the specialist magazines and bone up on the new jargon and tech.
You fucking listen to it.
Preferably rather loud. In Citizen Zombie's case, the loudness ensures that there are no more living insects or small mammals within a hundred metre radius. Which means that all those bugs that keep getting in your car are about to suddenly erupt as you slide Citizen Zombie's slim silver disc into your car stereo. Their improbable off-kilter pauses are one of the things which separate The Pop Group from so many other bands. Their momentary silences are extravagant, pregnant, puzzling and … ultimately stunning.
The Pop Group's music is deceptively complex, the impact slams into you like a twenty foot croc, twisting away, then coming back over and over, jackhammering at you, nagging, wailing, pleading, crying and … gulp, harmonising…
The Pop Group should be hired to tour farms with plagues of locusts, mice, rats … even the allegedly nuclear-bomb-proof cockroach will pack its bags and head for the hills … if it doesn't splurt first.
This, dear readers, means that this record is killer. CRANK IT UP.
I may, in my excitement, have a couple of the words wrong. But … prove me wrong.
1. Citizen Zombie
Dear God… Talk about the march of the monstrous. As ever, The Pop Group are overwhelming, Dan Catsis' huge lopsided bass dub, linked to improbably beautiful piano and synth and … Stewart's outraged vocals … a shriek against the taboo of knowing who you are and what you want to be … 'out here on the perimeter/ nobody can hear you scream' … I cannot stress how bloody enormous this band are, how measured and powerful their intent is. You can dance or stand in gobsmacked silence.
2. Mad Truth
Seasick piano and cod-roofied disco beats dominate Stewart's lament for women everywhere. I'm guessing but maybe it's Bruce Smith on the rhythms and piano ? Mad Truth is a modern Chic Donna Summer. Damn catchy too, the bass line snaking about with Gareth Sager's wiry guitar snipping at it…
'When you fall in love a thousand times a day
With all the love in the world to fight your life away/
Sister read on/ it's time to make a stand
Sister read on/ the future's in your hands'
"Mad Truth" has 12" dub mix written deep in its groove. And if we still had Countdown, Molly would be telling you to do yourself a favour. If we still had meaningful top ten hits … look, I'm telling you, Katy Perry could cover this and she'd dominate.
3. Nowhere Girl
Shattering Catsis dub coupled with Gareth Sager's borderline holocaust guitar, and whoever's on keys has a vicious, operatic streak of romance; 'it's just a lonely planet/ without you/ nowhere girl' … coruscating, violent, gorgeous and sexy. If there's a song related to 'She Is Beyond Good and Evil' here, Nowhere Girl is it. Think I'm off on something? I double dare ya…
4. Shadow Child
Punk's real enemy wasn't the establishment, but the wilful stupidity of its misguided followers. The bands wanted so much to grab the buggers and give them a shaking. Here we have the strange, asynch rhythms plunging to and fro, first spazmodo guitar, then slappin bass then the kind of synth which sounds like the bastard's haemorrhaging tonality. There really isn't much to compare The Pop Group with at the best of times, but imagine if James White and the Blacks weren't so precious and just got hammered every time they played… that's about a tenth of Shadow Child.
5. The Immaculate Deception
Mocking fake strings lie over a brutal beat, then the bass crushes everything and … is that a chord structure Angus Young would whimper for? … whispers, harmonies, shrieks … when the book of rock is written properly, irrespective of fame and dosh and looks and this 'age of anxiety' …
6. S.O.P.H.I.A.
The second-nastiest synth sound I've ever heard couples with that sonic superfucked guitar and superb slapped bass, a la classic Was Not Was (I'm simplifying). Again, this is a superb contender for extended 12" mixes. Dance floor filler, boys'n'girls.
Supernatural timing/
You walked in through the door…
I'm so sorry but that's not what I came here for
You feel nothing/ You do nothing/ Denounce everything/ Do nothing
You took me to the very edge of the night/ shoot out the light …

7. Box 9
Such is the nature of The Pop Group that there are many times when you're not entirely sure what instruments you're listening to, and the song dances about so quickly that you can't focus … 'watch the closing doors/ things will never be the same again/ can't somebody tell me/ what's in Box 9' … I'm sure you can figure it out. Another full-on, loaded and complex song which nags you to dance so you have little choice.
8. Nations
Oh, this is just superb. Driving synth war, then Gareth Sager's huge crying guitars, and Mark's vocals reminiscent of a certain track by Gang of Four, or the Velvet Underground's The Gift. Are you getting this? We are the barbarians past the gates and milling about inside civilisation …
'...nations of couch potatoes, chained to their tv screens…this message will self-destruct in ten seconds'

9. St. Outrageous
Again, here comes that huge, engulfing sound punctuated with … er, cartoon music. No. Yes. Maybe. It's moving so fast. God this is so savage, far more … sincere, heartfelt … The Pop Group are modern music's battering ram, sweeping aside the cowardice of our age. 'Baby, baby/ I want to give you something to remember me by…' This is utterly exhilarating, savagely intoxicating. I can't ty[pe Amy mor
10. Age Of Miracles
Just when you thought you'd got this lot, really kinda figured them out, got their number or otherwise cracked their code, here comes this gorgeous piano with Sager's sweet, shimmering guitar hovering above one of Catsis' sick wicked ugly bass rhythms as Mark pleads for understanding and compassion … it's 38C and I'm dancing about in my underpants …
11. Echelon
The last track would not be out of place on a Gavin Friday LP, again lovely, lilting piano, Mark's tainted voice drawing us in as he reminisces with himself, Echelon throbs upwards and onwards, a tale of pasts regretted… 'their struggle was not in vain/ a broken-down melody/ the saddest music in the world' … I could imagine Marc Almond begging to duet this one with Gene Pitney…
'these days of dissonance/ these days of rage …'
Made me cry. I played Echelon over and over.
And just to make sure you're paying attention, this is the standard cd version of Citizen Zombie; the 2 x cd set includes three extra tracks plus a bonus 4 track CD EP; 'Versions Galore' plus patch, 2 art cards, postcard and badge.
There are assorted vinyl versions, downloads and what-have-you too.
Get it all here and all other LPs and T-shirts and so on here. 
I've heard Citizen Zombie about seven times now. Can't stop. Don't want to. 
Citizen Zombie  has a release date of 23 February 2015. The Pop Group are: Mark Stewart (lyrics / vocals), Dan Catsis (bass), Gareth Sager (guitar) and Bruce Smith (drums).
The Pop Group are better than they ever were.
Bottles, Barman?







 And a barn full of dead vermin


The Pop Group
Australian Tour
MARCH
5 - Freemasons Hall, Adelaide +  Ade Suharto + Brian Ritchie + Simon Barker.
6 - The Factory Theatre, NSW + Kim Salmon
7 - The Corner Hotel, Richmond, VIC + Harry Howard and the NDE
Tags: the pop group, citizen zombie, post-punk, gareth sager, mark stewart