The Streetwalkin' Cheetahs return with a blast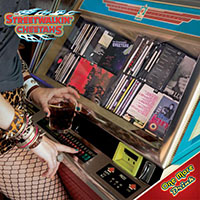 One More Drink – The Streetwalkin' Cheetahs (Dead Beat Records)
Eighteen years after their last record and a quarter of a century since they formed, the Streetwalkin' Cheetahs have roared back to deliver their best yet. A baker's dozen songs, overflowing with guitar power and pop hooks. "One More Drink" kicks harder than a toddler with a tooth-ache having a sugar-deprived tantrum in the confectionery aisle of a supermarket.
The Streetwalkin' Cheetahs might be named for the Stooges but they're from Los Angeles, a shiny and often cruel place that coincidentally did the Dum Dum Boys no favours, but they mix so many influences you might wonder which box to put them in. Don't bother. There's punk,Motor City jams, Cheap Trick-style pop and new wave, mixed in with Motorhead-flavoured metal, boogie rock and speedcore.
When Wayne Kramer was in the ascendancy as a solo artist in the early '90s, the Cheetahs were his touring support and backing band for a spell. Five studio albums, two live records, a split with the BellRays, singles with Cherie Curie and Deniz Tek, and another EP were the fruits of their hard slog before splitting in 2002.
Now reconstituted around founding members Frank Meyer (vocals, guitar), Dino Everett (bass), and Mike Sessa (drums), they've recruited guitarist Bruce Duff (ADZ, 45 Grave, Jeff Dahl) and saxophonist Geoff Yeaton. But that all rock and roll bands going through their second life sounded as energetic as this.
"We Are The Ones (We've Been Waiting For)" is lean and powerful pop. The multi-layered vocal harmonies and steel grip guitars of "Ain't It Summer" will convince you it really is and you're riding down Santa Monica Boulevard in a convertible with the top down. "Bad Vacation" is stabbing guitar pop with a big hook in the tail.
Those harmonies are back on the surging "Escape From New York City" and while we';re in the neighbourhood, "Fuck The Future (We Want It Now)" is the metal speed trip that Manitoba's Wild Kingdom forgot to release.
The title track is a wordy but worthy new wave-flavoured rocker with a vocal assist from John Easdale (Dramarama) and nagging guitars that'll have you asking for, um, one more drink. Cue Yeaton's cool-as-fuck sax outro.
The distorto guitar fest of "Rumblin' Train" recalls the Rose Tattoo of "Remedy" and "Suicide City". The steamrolling punker "The Rejected" (with guest Rikk Agnew from The Adolescents) and the nasty "Fast, Furious and Fucked" ensure the Cheetahs' punk credentials remain clearly on display.
"Warzone" locks into a strutting AC/DC feel and is covered in fluid guitar lines from Meyer and Duff. Meyer, by the way, is one busy guy; a musician, screenwriter and author who bounces from project to project, also having fronted James Williamson and the Pink Hearts. On "One More Drink", his vocal matches, and in parts exceeds, what he brought to that party.
If you think any or all of this is hyperbole (like we'd ever be accused of that!), jump onto a streaming platform and listen for yourself. Real Rock and Roll isn't about to blow all the fluff and generic blandness off the airwaves/Interwebs in a hurry, but the Streetwalkin' Cheetahs are back to remind us that all is not lost. Score a copy and kick against the pricks that would have it otherwise.

2/3
Tags: frank meyer, streetwalkin' cheetahs, rikk agnew, adolescents, one more drink, dead beat records, dino everett, mike sessa, bruce duff