Thee Minks deliver that killer Philly garage sound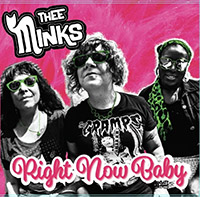 Right Now Baby – Thee Minks (self released)
Philadelphia is a place that's always punched above its weight. Bill Haley, Todd Rundgren, Hall and Oates (yikes) and Pink are among musical offspring of the City of Brotherly Love. And for the fourth year in a row, Philly has more homicides than New York City, a place four times its size, and currently ranks second on the USA per capita Murder League Table.
So here's a recommendation if you're a fan of rough 'n' ready, no bullshit garage rock and roll: Look up Thee Minks. Hook into this album like there's no next week. Go to their Bandcamp and plonk down your credit card number or Paypal handle. Do it right now, baby. Thank you. You've been a great audience. I'll grab my hat and coat.
Thee Minks are an all-girl trio that seems to have been around since that other famous Philly son, the late Chuck Barris, was in shorts. They last released an album ("Are You Ready Now") on Steel Cage 14 years ago, so they've outlasted him AND their record label. If memory serves correctly, that album had a song called "(I Wanna) Do a Woggle" so you know that sass and humour are in their musical DNA.
Who are these Minks? Guitarist Hope Diamond is a no frills twanger and blues shouter with a voice that's slighly serrated-edged. Liz Lixx on bass and Veronica Beats (you can guess what she plays) are a straight-up engine room partnership that plays without pumelling. The trio adds some judicious theremin and keys but the sound is garage grunt. The songs have just enough melody and hooks to make them interesting. They're like The Pandoras but with more grace.
"Sticky Situation" kicks off the album in swaggering style. Diamond's stuttering guitar and Beats' drumming propels the song with the latter adding a touch of swing. Hooks abound. It's rivalled by the title tune where Hope's drier-than-a-drought tone provides grit. The Nuggets-sy "Element" employs a cascading guitar figure to great effect.
"Mystery Man" conjures up a killer guitar line and proves that in nine cases out of ten, simplicity with soul and attitude works best. "Perfect" puts its head down and bolts for the finish line. It's easy enough to dip in anywhere and come up with a good tune. It's that sort of album. From what I can work out from the little YouTubage around, the record's an accurate reflection of the band.
There are 12 songs (10 oriignal) and "What a Way To Die" is cover of a song by the Pleasure Seekers, the '60s Michigan band that spawned Suzi Quatro. It's given a party-in-the-studio treatment that suits the tune just fine.
It's a digital release only but ask nicely via a message through their Facebook or Bandcamp and the band might sell you a CD as a limited run has been pressed for gigs. You do know what a gig is? Yeah, it's been a while for all of us.



Tags: garage, pandoras, thee minks, right how baby , philadelphia