There is Only Now - The Galileo 7 (Damaged Goods)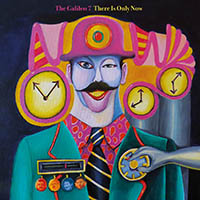 One of those online dictionaries defines "freakbeat" as "a sub-genre of rock and roll music developed mainly by harder-driving British groups, often those with a mod following during the Swinging London period of the mid to late 1960s".
Fair enough. This review is written by someone who used "The Rubble Collection" of UK freakbeat as the soundtrack to painting a dining room wall. There are 10 discs in that box set and, no, it didn't all of them to get the job done. Almost.
The point is that if you don't know the tag, you'll know th sound. Odds are you've probably heard, latched onto and loved a freakbeat band without consciously knowing it. In which case, you're a candidate to be equally besotted with The Galileo 7.
Formed in the UK 10 years ago so bassist Allan Crockford (The Prisoners) could play his own songs, they're staggeringly good. Crockford plays guitar and is joined by bassist Paul Moss, Viv Bonsels on keys and drummer Matthew "Mole" Lambert. All of them share vocals, although Crockford leads on eight of the 12 songs.
This is joyful psych-beat music. It's sunnier than that fortnight in June in England when it doesn't turn grey or piss down rain. You'll hear it in the harmonies on "Too Late", the cruisey keyboards-driven "Let's Go" or the bongos-inflected coming-down song, "The Last Hours of Aldous Huxley".
"There is Only Now" packs its share of muscle, too. Despite all those hallucinogens, it's not inclined to float away any time soon when it's anchored by its lock-step engine room. The Galileo 7 save their heaviest for last with "(I've Got Them Old) Microcosmic Blues (Again)".
Psych-pop doesn't get much better than the undulating melody of "Crooked Smile" (sung by Paul Moss) and its economical lead-break, or the nervously energetic "I Dream of Sleep" where keyboardist Viv Bonsels takes the vocal.
As is the nature of DIY recording these days, "There is Only Now" was recorded in stages but there's no hint of disjointedness that a record with so many lead vocal parents might otherwise have.
Music with which to greet the sun on a bright weekend morning. Preferably, Saturday because Sunday is too close to Monday.

Tags: psychedelic, pop, freakbeat, galileo7, damaged goods, there is only now