They wanna be well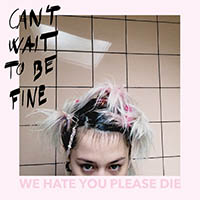 Can't Wait To Be Fine – We Hate You Please Die (Buttercup Records)
Don't attempt to pigeonhole this band. It won't do you any good. We Hate You Please Die play what you could broadly term lo-fi garage rock, but that's where the preconceptions end.
There's a whimsical fragility to these 12 songs that make them odd and compelling. There's also sharp musical ability and some keen song-writring.
"Can't Wait To Be Fine" is the second long-player for the two girls/two guys band from Rouen in France (their first "Kids Are Lo-Fi" came out in 2018) and it's evidently a kick against the twjn pricks of brainwashing and society's demands to confirm.
More than a few songs are themed by mental illness. OK, I hear you: That's a well-worn path. "Bad Brain" and "I Wanna Be Sedated". But it's done in a much more sophisticated way than the Ramones..
You might guess that We Hate You Please Die is an angry young band, and you'd be correct. All that collective angst is encapsulated in "DSM-VI", side one's closing song that takes its title from the global textbook for classification of mental illnesses. It never settles into one groove and singer Raphael Monteiro implores: "I have something to say, I have something to write" before the band explodes in a flurry of guitar and drums.
Musically, We Hate You Please Die is closer to Ty Seagall than Johnny Hallyday. Thankfully. The bio name-checks Australia's Vines, with some validity. The band itself issued a Fugazi song in tribute on its Bandcamp and takes song-writing cues from them without being able to match their rhythmic high tension.
The official clip for the second song on side one should give you a steer for what to expect:
"Can't Wait To Be Fine" is full of musical mood swings. "Otterlove", sung by bassist Chloe Barrabe, is a melodic pop song sandwiched between the raging punk of "Paula" and the frenetic surfing-garage of "Luggage". The vocals are shared. Monteiro sings, at times, in a strangled upper range or warble – as the mood requires.
By the time the six-minute title track arrives, you'll either be thoroughly immersed or reaching for your own psychiatrist's phone number. The song's as diverse as anything else here.
It's on various labels worldwide but Buttercup is pressing just 175 copies in Australia, you you know to do if you're hip to these kids' sounds. On sale in transparent vinyl with vomit splatter here.



3/4
Tags: french, buttercup records, can't wait it to be well, we hate you please die