Trade Winds – Johnny Casino (Citadel/La Villa Nova)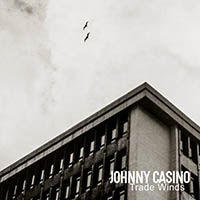 Johnny Casino albums are a treat for the converted and a revelation for those less fortunate. If you're one of the latter, "Trade Winds" is as good a place as any to start.
It's been way too long between records for Johnny - both this album and its predecessor "Time and Time Again" are old recordings woodshedded for later release - but well worth the wait. The big fella from Sydney's Northern Beaches makes Spain his home these days, where he plies his dual trades of tattooing and playing music.
"Trade Winds" was recorded before he emigrated a couple of years ago with a crack band in North Fremantle, Western Australia. Drummer Warren Hall (The Volcanics, Datura 4, The Drones), a longtime Casino sideman, joined with Martyn P Casey (Nick Cave and the Bad Seeds /The Triffids/Grinderman) played bass. That's as fine an engine room as you'll find. 


The supporting cast is qually familiar; Dom Mariani (The Stems/DM3/ Datura 4), Greg Hitchcock (The Bamboos /You Am I/The Neptunes, Datura 4), John Phatouros (The Volcanics), Richard Lane (The Stems) and sisters Jodi and Carrie Phillis (The Clouds and The Boobytraps respectively) all lent a hand.
Casino's Asteroid B612 bandmate Kenny Watt recorded and mixed the record and expat Detroiter living in France, Jim Diamond, mastered. Not surprisingly, "Trade Winds" sounds huge.
Brooding opener "Ghosts In Your Mind" starts proceedings with a sweep of high drama. The lyric "blood on my tracks and dirt on my hands" is autobiographical - like much of the record - and there's enough ambiguity to allow wide interpretation.
That Dylan reference might be coincidental but Richard Lane's rich Hammond organ gives "You Can't Give It Away" an Al Kooper touch that references "Highway 61 Revisited". Not to over-egg the analogy but "Trade Winds" has that warm, unvarnished mid-60's feel and was recorded on analogue equipment.
Simple songs delivered with passion and feeling sums up the album. "Temptation" and the rousing plea for help "Oh Night" are prime examples. Casino doesn't waste any notes and the embellishments are few and effective - like the girl group harmonies of the Phillis sisters on the latter.
Greg Hitchcock's slide adds an edgy touch to the gorgeous surf-tinged instrumental "Parajos Del Mar". Johnny's wife Mayra lends her backing vocal to the restrained and beautiful "Anytime". It's well placed as the penultima track ahead of the magnificent "Somewhere Lost In Time", another Hammond-assisted, brooding rocker.
There are only eight tracks because "Trade Winds" is meant to be heard as a vinyl record. You can grab the LP version from Europe or the CD from Australia via the links below. Whatever your poison, just make sure you get it.



Tags: stems, carrie phillis, johnny casino, booby traps, jim diamond, asteroid b612, datura4, citadel records, greg hitchcock, warren hall, time and time again, triffids, richard lane, trade winds, martyn p casey, jodi phillis , kenny watt, la villa nova