Vol 10 - The Heartbrokers (Off The Hip)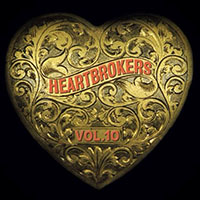 There's no long history for this band apart from the collective curriculum vitae of the Melbourne people involved and the obvious fact they have an affinity for each other's playing. It was recorded in a suburban shed on an oppressively hot day in 2014. It also grooves and rocks like the proverbial.
There are no Volumes 1-9 or even an 11. The Heartbrokers are Van Walker (Tasmanian-born singer-songwriter) on guitar and vocals, bassist Cal Walker, drummer Ash Davies, roots-rocker Jeff Lang and rockabilly-country pianist Ezra Lee. Plus friends like Jack Howard (sax).
Names can confuse and so can genres. Just as they toy with their title, these guys confound pigeonholing with their broad range. More (early) Seger than (doomed) Thunders but maybe a little Petty in terms of borrowing some sounds from Americana, The Heartbrokers defy categorisation other than good, old-fashioned, boogie and blues-based rock and roll.
Van Walker wrote most of the songs, apart from a notable cover ("Going Down") or three. The likes of which you're only likely to hear on Melbourne's stupendously great community radio scene or your very own CD player. You'll just have to buy a copy, or go see them. They don't seem to gig that often, which you can put down to the individual members' full dance cards.
The allusion to early Bob Seger above was no mistake. Don't damn Bob for the strength of "Hollywood Nights" or for giving a pre-Scientology Tom Cruise something bland to dance to; Bob Seger and The Herd and all his early solo band records were The Shit. So is "Dance Motherfucker" by The Heartbrokers, its rollicking piano and irresistible blues-rock feel echoing "Get Out of Denver". Jeff Lang's stabbing guitar solos are snappy, too.
"Eyes On The Keyhole" (a Van and Cal Walker co-write) is in the same vein but with stinging slide added to the mix. Boogie par excellence. A call-out for the aforementioned "Going Down" where Ezra Lee's keys come into their own, impervious to the stinging guitar licks thrown their way.
The punchy horns-tinged "I Am a Devil" is an arresting album opener, Van Walker's rich vocal and the dry Stonesy groove hit the spot. This one - and the whole album - is remarkably tight considering the band's part-time nature. It sounds anything but thrown together.
Remember The Lazy Cowgirls or have you heard Pat Todd's subsequent work with The Rank Outsiders? The Heartbrokers are coming from a similar musical place without the former's amped-up abrasiveness, plus a good deal more boogie. Coincidentally considering its name, The Heartbrokers' song "Rank Outsider" is a reflective moment for pause that's worth bottling. Van Walker's knowing vocal really nails it. The languid but warm "Have No Fear" follows and the sequencing makes for a nice pigeon-pairing.
Fact: There's not a bad cut among the 10. It might have been rawly recorded but Van Walker, Lang and co-producer/mixer Colin Wynne have done a bang-up job, sonically speaking. God bless the Melbourne music scene and all who sail in her.






1/2
Tags: heartbrokers