Vol 4 - Black Bombers (Easy Action)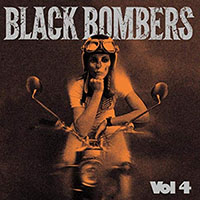 The only disappointment is that it's six tracks and not a full album. The title "Vol 4" is an obvious nod to their hometown heroes and is as grimy and hard as the worst parts of Birmingham used to be, pre-gentrification.
Black Bombers are one serious raw power trio. Don't dwell on the Sabbath heritage because they're a step removed from their fellow Brummies' relentless attack. Black Bombers lay down a looser groove and leave more spaces. There's a multitude of influences at work including Motorhead, the Pink Fairies and Blue Cheer.
The key elements? Alan Byron's excoriating guitar and edgy vocal casts white light and heat against the surging engine room of Dave Twist (ex-Prefects) and bassist Darren Birch (ex-Gunfire Dance, The Godfathers). Black Bombers apply minimal flash for maximum crunch. Simon Bishop's uncluttered and dry production places Byron's voice right up front of the mix.
Byron pushes his vocal into redline territory on "Sometimes" and "Relentless", while "Animals 'n' Cages" is frantic in its Stooge-like rush to the finish line. Instrumental "Gnarley" is cooly subversive and groovy at the same time.
The sole non-original, "Hair Of The Dog", sinks its teeth into a pulsing rhythm, searing guitar and obvious lyrics about the day after the night before. It's a Green On Red cover but done with balls. It's no small praise from an Australian perspective that this one recalls Melbourne's late, great Powder Monkeys. If you love them, it's a fair bet that you'll salivate over Black Bombers. Hassle Easy Action for a copy.



1/2
Tags: easy-action, black bombers, birmingham