Watt's up with a blade shave?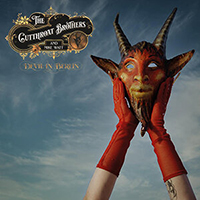 Devil in Berlin – The Cutthroat Brothers and Mike Watt (Hound Gawd Records)
"Devil in Berlin" is what you get when you pair two punk rock barbers with a Stooge. Say again?
The Cutthroat Brothers are the US garage punk duo of Jason Cutthroat (guitar/vocals) and drummer Donny Paycheck (Zeke). Their day jobs really are cutting hair and trimming beards. They've roped in legendary bassman par excellence Mike Watt (Minutemen, fIREHOSE, The Stooges).
Duos really are the new black in underground rock and roll and their status as configuration du jour seems sure to escalate as COVID subsides and people realise it's an economical way to gig and stretches the rider further..
And barbers? Dunno about your part of the world, barber shops were never a big thing in Australia. On the other hand, shave shops operated by bearded hipsters are thicker on the ground in our inner-suburban shopping strips than bomb craters in downtown Beirut, so hopefully the blood that the band has wron on previous album covers has come from one of their number.
Anyway, well-qualified Jack Endino (Nirvana, Soundgarden, Mudhoney), who is a Cuthroat Brothers fanboy, engineered most of it. It sounds huge.
If immersing yourself deep in the sound of a swamp is your thing, you'll take to "Devil in Berlin" like Lux Interior to a leather jockstrap. Of course, the Brothers have previously overdubbed the odd bass-line as needed. Roping in the multi-faceted rumble of Watt for a whole album, however, adds another dimension.
You know Watt was almost overlooked for the reunited Stooges because Iggy thought he was too good a player? He proved he could keep it simple when he came on-board, and finds the middle ground on "Devil In Berlin", riding that root note but adding tonal variations and runs when the song allows.
The Cutthroat Brothers' bad boy schtick is laid on thick over the course of these 11 songs but agreeably so. The boogie rumble of "Been Away" is skewered by a Jason Cuthroat lyrical word salad and some cutting slide guitar. More of the same on the title track.
Donny Paycheck is all over his toms on "Like a Zombie" and there's no denying the Cramps overtone. Watt owns "Wild Western" with his strident lead bass-line floating Jason's menacing dual-tracked vocal. No hint of Morricone twang about this one with phased guitar adding the edge.
"Bad Candy Girl" is as strong as an album lead-off as you'll hear and "Love Drugs etc" is a simple road song dressed up as a Southern rocker.
If there's a criticism it's that the songs don't have as many spaces with the addition of a bassist and The Cutthroat Brothers sound like a conventional band rather than a raw duo. Which is not to say that the rough edges have been smoothed off or that they're going to feature in the Superbowl halftime entertainment any time soon.
German label Hound Gawd rarely misses and so it goes with this one. It's a good a place as any for anyone unfamiliar with the Brothers to start and comes as a CD or LP.

1/2
Tags: stooges, mike watt, devil in berlin, cutthroat brothers, zeke