We Hate Each Other But We Hate You More – Baby 8 (Kasumuen)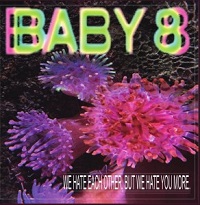 Melbourne's Baby 8 has delivered a smashing album full of songs about drinking, drugging and horrific nights out. It cuts straight to the bone. No love songs here, folks; just pure "boobs-to-the-wall" rock 'n' roll with some punk-pop thrown in.
"We Hate Each Other But We Hate You More" just kicks from the first track, "Nights Want to Kill", which is the single. And what a cracker song it is.
Rachel Lendvay (vocals) shines throughout. Katie Dixon (Powder Line Sneakers) on guitar, Maureen Gearon (NQR) on bass with Matty Whittle (ex-GOD) on drums round out this powerful rock band.
With songs like "(Hit The Breaks) Screaming Guitar", this is punkish power-pop at its best. "I Wanna Spend" is pure punk made for rocking out at the pub.
Produced by Lindsay Gravina, this debut album is fabulous. If you don't believe me, go check them out for yourself on Friday, July 20 at The Old Bar in Fitzroy when Baby 8 is having its album launch. There will be plenty of surprise guests. Don't forget to bring presents as it is also doubling as Katie Dixon's 21st birthday party.
It almost goes without saying, folks, that the Farmhouse is currently rocking to the sounds of these girls and guy.


Tags: GOD, powerline sneakers, Kasumuen Records, NQR, baby 8, we hate each other but we hate you more, katie dixon, rachel lendvay, matty whittle, maureen gearon