Wham, bam, thank you Dang!!!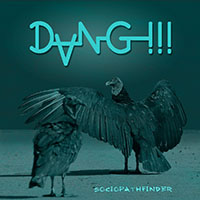 Sociopathfinder - Dang!!! (Apollon Records)
What the difference between a "supergroup" and a "super group"?
The answer and five bucks will get you a cappuccino, but only if the pandemic-induced labour shortage that's hit coffee shops in these parts mean there's someone on deck to make it for you.
While you're pondering the problem you might go cold turkey with your Wordle obsession and cock an ear to what's in these grooves.
Dang!!! is a Norwegian studio collaboration that started with Arne Thelin (ex-Lust-O-Rama, Kwyett Kings) and Stu Manx (ex-Gluecifier) swapping guitar riffs over the Internet during lockdown. One thing led to another and by the time they convened in a real studio with drummer Havard Takle Ohr and keyboardist Geir Nilsen, emailed music parts were flying in from all over the globe like members of the International Olympic Committee on their way to a fine dining festival.
The core band solidified to include American Karen Cuda (ex-Nashville Pussy/HemiCuda) on bass, Håkon Gebhardt (ex-Motorpsycho) and Andre Dahlmann (guitars and other sounds) and project contributions are from past and present members of The Cynics, Guida, Senit and Mork.
The first thing you need to know is that the sound of "Sociopathfinder" is Huge. The band went in with an ethos of mic'ing their amps direct and applying as few effects as possible but it's not a distortion fest. The production is punchy with a sense of presence.
The songs range from measured garage rock stompers ("Long Gone Misery") to displaced grunge-pop ("Lockdown Blues"), organ-propelled e ("Black Vultures") and extended prog-metal munificence (""Eight Minutes Till Doomsday") that refences "In The Hall of the Mountain King".
"Droned" welds doom-laden vocals to a mechanical rhythm with an odd strings section worked into the middle section. There's even a touch of Turbonegro to the 45-second intro track "Preludium Desperado" where snaking "Catch Scratch Fever" guitar sparks against swelling keys.
The swirling, keys-heavy "Manic Possessive" recalls The Strollers and the same level of gritty pop satisfaction with its hooky chorus., yielding to a spectacular guitar lead break. Hit pick. Honourable mentions to the nagging title track and "Degenerate 2020" too.
Super songs, sooped up playing. Lindsay Hutton hipped us to this record and it's proof again that he knows where all the good stuff is. Greatness jumps out from so many parts on "Sociopathfiner" that it's hard to attribute it to any one thing. Despite the variety, you can credit Takle Ohr's stellar drumming and Hakon Gebhardt's mix for the record's coherence.
Go in searchg of "Sociopathfinder" in all its formats and let Bandcamp be your guide.



1/2