We Who Are - The Embrooks (State Records)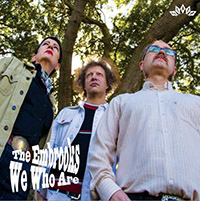 There's a steely edge to "We Who Are" that sets it apart from the pack of '60-influenced Paisley revivalists and winkle-picker wearing pretenders. It's apparent in the uncompromisingly serrated fuzz tone of Alessandro Cozzi-Lepri and the economical and direct songs this trio writes.
Most of us have a soft spot for garage rock and '60s punk. If you grew up in Australia, it's probably the US variants (and especially the acid punk end of the genre) that appeals. It fuelled a rash of bands in the '80s. You know their names. The Embrooks came late to that particiular party, not forming until 1996, but were no less formidable than their immediate forebears.
If we're going to talk genre, The Embrooks were masters of freakbeat - the English take on psychedelia, beat pop and Mod - that sprang up in the mid-'60s and fittingly spent time on the Voxx label before calling it a day in 2004. Their reformation for this, their fourth long player, was much anticipated.
The Embrooks honed their distinctive sound at London's legendary Toe Rag Studios, a treasure trove of vintage EMI equipment and home to everyone from Billy Childish to The Datsuns, the White Stripes and Holly Golightly. "We Who Are" was worked up in the determinedly analogue North Down Sound Studios in Kent and doesn't suffer one bit for its relatively new surroundings. It's eight-tracks all the way.
"We Who Are" is all original, save for the high-octane cover of The Searchers' "Have You Ever Loved Somebody", and tempers the fuzz attack with a some Byrdisan janglers ("Human Living Vampire" and "Til Tomorrow".)
The harmonies of Cozzi-Lepri and bassist Mole straddle many of the songs. Occasional organ fills out the trio's sound. There's even an odd appearance of flute just to colour things (most noticeably on the fuzzy and monstrously good "Riot on Kingsland Road".)
"Hang Up" shows no such thing as far as pedals are concerned with its wall of fuzz and emphatic wah wah work. "Going But Not Gone" is a bustling album opener but The Embrooks save one of their best till last with the explosive rave-up of "You Can If You Want" where a river of fuzz and Lois Tozer's propulsive drums carry the day.
Is it14 years since their last album? If only every reformed band from two decades ago could sound this fresh.

1/4
Tags: bomp, freakbeat, state records, embrooks, who we are, mole, lois tozer, Alessandro Cozzi-Lepri , voxx, toe rag studios