You think they're psycho don't you, Momma?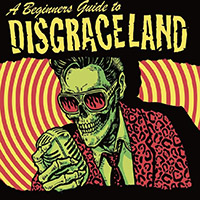 A Beginners Guide to DISGRACEland – DISGRACEland (Vi-Nil Records)
DISGRACELand are the remnants of Sydney Northern Beaches band from the '90s, Orange County, MERGATROID and the group fronted by infamous '80s wastrel Johnny Teen, and have hooked up with re-animated label Vi-Nil to release a debut album. Sounds just what's needed in these fraught times where live music is still staggering under the weight of a COVID hangover.
With pandemics being what they are, DISGRACELand hasn't appeared live much, but the shows they have under their collective belt have attracted attention. One animated affair at the Link and Pin Café in Woy Woy, north of Sydney, impressed part-owner and Vi-Nil honcho Mark Fraser so much that he decided to put out the band's CD.
"A Beginners Guide" is 10 tracks of raw and willing garage-y rock with tinges of psychobilly and a smidgin of surf. Not a lot of pop to be had but a shitload of energy. Dig?
First, the critical stuff: The production is fair-to-middling and two-dimensional with some overdubs sticking out like dogs' balls. Carl Musker's vocal is occasionally buried too deep under the guitars and the engine room doesn't get a fair shake. Matt Press' guitar assault is relentless and integral to the sound, with "Midnight Cowboy" providing the only degree of relief with its toppy bass-line. A little more colour and shade wouldn't have gone astray.
That grumbling to one side, "A Beginners Guide…" has some excellent moments - and who doesn't like a band with a psycho frontman, even when he's only jumping out of your speakers and not on top of your table?
"Hodad City" is a fine opening statement of intent. "Drug Mule" packs a confident swagger that kicks things up a notch just four songs into the record.
There are songs about guns and cars – the fodder of desperate times. "Aloha From Hell" swipes more from the Surfaris (cop that outro) than the Cramps and reverberates with raw energy. "Tri-State Killing Spree" works - both as a psycho anthem and a song title. There are no tunes about gun control here.
Yes, you heard "A.C.A." right and it is a tribute to matronly Australian TV current affairs host Tracey Grimshaw. Who else you gonna sing about? Ita?
A word on the band's name: These guys are not to be confused with the similarly-named the Elvis impersonator-fronted Disgraceland from the Gold Coast, the identically-named punks from Exeter in the UK, or this podcast.

So DISGRACEland harken back to time when their hometown was heaving with high energy rock and roll. You gonna takje exception to that?



1/2
Tags: vi-nil records, DISGRACEland , a beginners guide, johnny teen, orange county