Your room is ready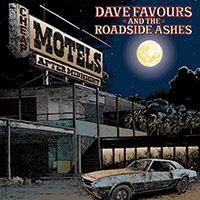 Cheap Motels After Midnight – Dave Favours and the Roadside Ashes (Stanley Records)
Forget the "alt.country" tag. It might be a comfortable peg on which to hang an urban cowboy's hat but after 15 years, Sydneysider Dave Favours surely occupies his own musical niche.
Maybe the tag should be "Ditch Country" – the twang is there, but like mid-70s Neil, he's skirting a course along the gutter because it's more interesting place to travel.
The second album for Favours and the Roadside Ashes and "Cheap Motels" is no "On The Beach" or "Tonight's The Night" and it sure isn't "Time Fades Away". There's a distinct whiff of the garage about it. It does have a scuzzy veneer that keeps it this side of Tamworth.
And just as most farms have a garage, every band now seems to have a lockdown story. Dave's is that the descent into home detention cruelled a national tour and forced him to write a new batch of songs by himself on acoustic guitar.
No shock there. The upside is that the songs on "Cheap Motels After Midnight" are solid and well delivered.
"Cleveland" is a strong pop-tinged opener that never stretches itself but makes a nice impression. "Gone Forgotten" hovers over solo GW McLennan or latter day GoBetweens territory before slipping comfortably into its chorus.
Favours pushes his vocal somewhere near its highest register on "Somebody's Gonna Get Hurt" and adds wistful harmonica to the arrangement before kicking it up a country rock and roll notch.
"Daughter (One Day)" swims in sentimentality while "When The Summer's Over" tries to turn the sound to dark, in a vaguely Crazy Horse kind of way.
"Cheap Motels After Midnight" steers a course that avoids self-parody or falling into country's obvious cliches. A punk rock heart beats in its chest, without the obvious fire and rage.



Tags: dave favours, stanley records, roadside ashes