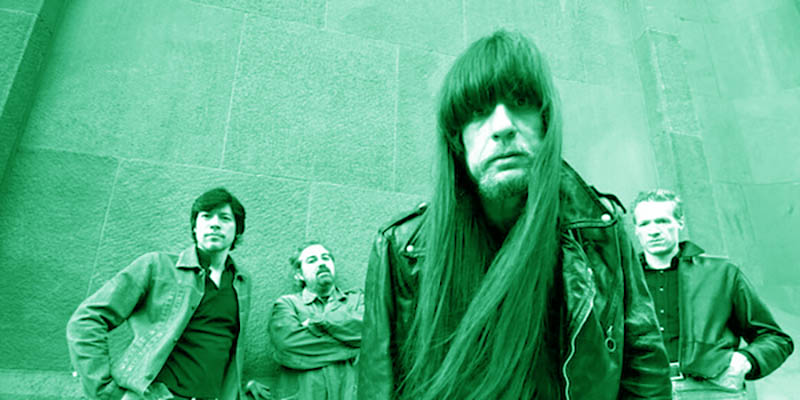 3. Endless Boogie live at the Cherry Bar
I scooted down to Melbourne to see these guys this year at the Melbourne Recital Centre (a fancy Opera House-ish type venue). It was an unusual spot to see the ultimate dive bar jam band but it was cool hearing them in such pristine sonic conditions. However I was delighted when it was announced they'd also be doing an impromptu set at the Cherry Bar later that night which, as it turned out, was a euphoric experience for me. It was a Wednesday evening (well Thursday morning when they kicked off) with the Cherry Bar heaving and the band showing zero signs of slowing down. Pretty good going for old blokes! I think they played seven songs over the two sets.

4. The Prize "Wrong Side Of Town" Single
A new Melbourne band delivering what I consider the single of the year here. Insanely hooky power pop tune delivered with a bass player, three guitarists and a singing drummer - gotta love a non-standard line-up. Definitely a band to keep an eye on.

5. Hard-Ons live at The Factory Theatre, Sydney
Tim Rogers fronting the Hard-Ons - what kind of mad voodoo is this? The best kind as it turns out! After several plague related delays I finally got to see the latest incarnation of this incredible band and it was well worth the wait. Tim effortlessly slotted into his new role, finding the perfect mix of strutting rock star wattage and just blending into the gang. Musically it all came together incredibly well both with the new songs and the standards. As a bonus my old band mates Gilli and Tess wandered on stage to help bang out "Know Your Product".

6. NoBro "Live Your Truth & Shred Some Gnar" EP
Super catchy poppy punk bubblegum performed with infectious energy by this Canadian all-girl outfit. The lead track "Better Each Day" has massive Andrew WK vibes in my mind - massive chorus, a one note piano riff and strong pogo-ability. Cool instrumentation choices and great hooks throughout this ep.

7. Ming City Rockers "Desperate" Single
I've been a huge fan of this UK band's first two albums and this year they released three singles that became instant ear worms and have me desperate for their next long player. MCR play loose, riffy, no-frills rock and roll with a bit of a grunge-y pop vibe.

8. The Meanies live at the Lansdowne Hotel, Sydney
Another much delayed gig finally got the green light and was a beaut. Playing songs from their excellent last couple of albums plus a healthy smattering of the '90s classics AND a ripping cover of Bored's "Feed The Dog". Link still sounds great and the band killed it.
9. Smooch "Feminine Touch" Album
Killer debut from this Melbourne four-piece '70s glam rock homage. Lots of KISS references mixed in with ever so subtle hints of contemporary Aussie pub rock reflecting the band members other projects. It's a very cool mix.
10. His Lordship "All Cranked Up" EP
Firstly congrats on coming up with a band name that cool this late in the game! Secondly, this ep rips - it's kind of Jim Jones Revue-y retro rock and roll with a punk edge. The title track is a belter as is the incredible "I Am In Amsterdam" which sounds like a mashup of The Stray Cats, The Sonics and the Sex Pistols.

SPECIAL MENTION
Hans Condor "Breaking & Entering" Album
This album came out in 2021 but for some reason the universe delayed my discovery of it until this year. Warts and all punk rock and roll played with absolute kitchen sink passion and intensity. Definitely my discovery of 2022 - I have fallen hard for these Nashville nutjobs. Watch their music videos for "Time Rhyme or Reason" to learn everything you need to know about them.