Top Tens for 2021: Peter Booges Werth of Conquest of Noise Records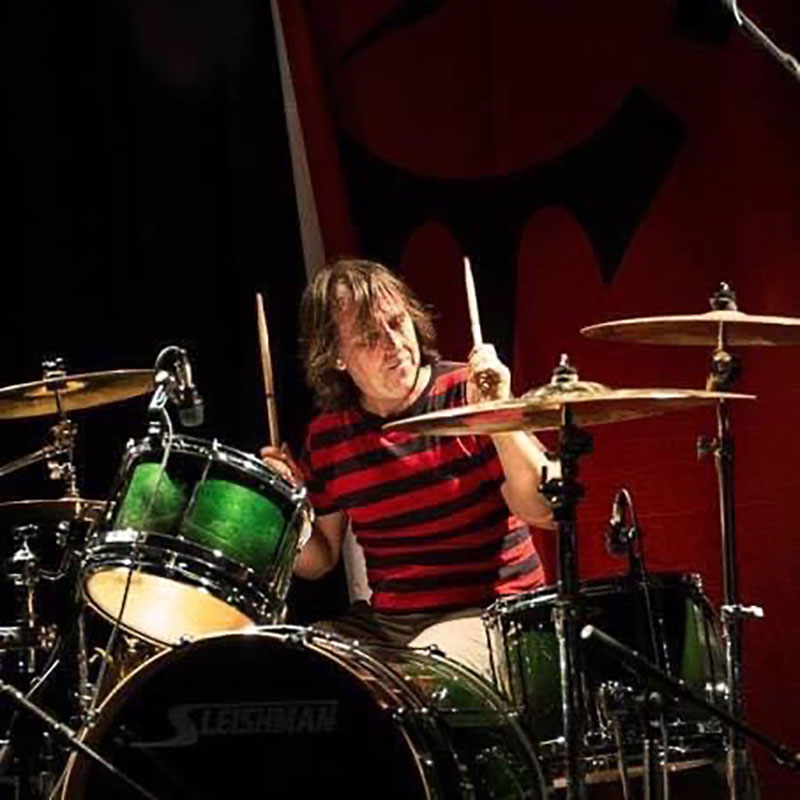 Booges filling in on drums for Brisbane band HITS on a string of Radio Birdman supports.
After a weird couple of years and having to shelve my label for family reasons and a pandemic, you could say I've dropped out of music to a certain degree. Anyways I do have a Top Ten.Some are releases, some arte new bands and some are life choices. Onward, upward and ideas flowing for the label and a possible live venue. In no particular order:
Belle Phoenix - "The Glorious Dead"
One release that got affected by my situation. Thankfully Beast and Spooky released this absolute gem. Belle was living in Brisbane a few years ago when my friend Mary Mihelakos contacted me, saying I should talk to Belle. I did, we met up, listened to the recordings she did a few years ago and put my head down to help her as much as I could behind the scenes. I was planning on releasing the album but family issues and then COVID put my label at a standstill. I've been listening to it for a few years now and haven't stop listening to it.
The Hard-Ons - "I'm Sorry Sir, That Riffs Been Taken"
The Hard-Ons are like the finest of wines. "Needles & Pins" is one of the finest pops songs I've heard in years
No Cake - "Music Is Easy"
Meat Cake minus guitar and added synth. Fantastic record. I've known Keith since the early 90's back in the Midget Brisbane days. This bloke is like another fine red.
Raygun Mortlock - "Salt Mine"
Noisy shit from South Tweed. South Tweed is a place I enjoy taking the piss out of. I've been doing that since the 80's and it ain't gonna change. Plenty of angst in Raygun Mortlock and if you've ever been to a Machinery Dr knock shop after drinking Bundy and Coke all day at the South Tweed Tavern you'll understand why.
Bag Full Of Beez - "Do Androids Dream of Electric Beatles"
New project for Link Meanie featuring the talented tub thumper and all-round good bloke Matt Cotter on drums. Is there anything Link can't do?
Chimers - "Self Titled"
On old mate Craig Jacko's label Poopalley Records. If there's such a this as classic post punk then this is one of them.
Suicide Country Hour live at the Triffid on a Sunday arvo.
These chaps just get better and better. If you haven't bought their records the address Molly would say "Do yourself a favour". Swashbuckling Hobo records with help you out
MD Horne's Last Call "High Tides, More Crimes"
My old mate, bandmate (Lowdorados, 300St. Claire) and housemate does a wonderful job on his solo project. Great players and beautiful stories. See ya at the Crown for a three-day bender, Beinhart.
RBT (Random Beer Tests)
A bunch of beers ya gotta sink: My friends and fellow cat lovers at Lost & Grounded Brewers (UK), Currumbin Valley Brewing, Slipstream Brewing, 10 Toes Brewery.
Pilates
It saved my body and mind in a stressful time. Getting great results in some extremely hard animal welfare exams is a very rewarding feeling.
Former venue booker Peter "Booges" Werth has played with Sydney bands Lowdorados and 300 st claire. He operates the Conquest of Noise Records label (currenyly on hiatus) and spends his time between Brisbane and the New South Wales Far North Coast.
Tags: top ten, raygun mortlock, meat cake, peter booges werth, 2021, belle phoenix, hard-0ns