Top Tens for 2022: 2RRR-FM Sydney Sounds presenter Kevin "Big Daddy K" Cherry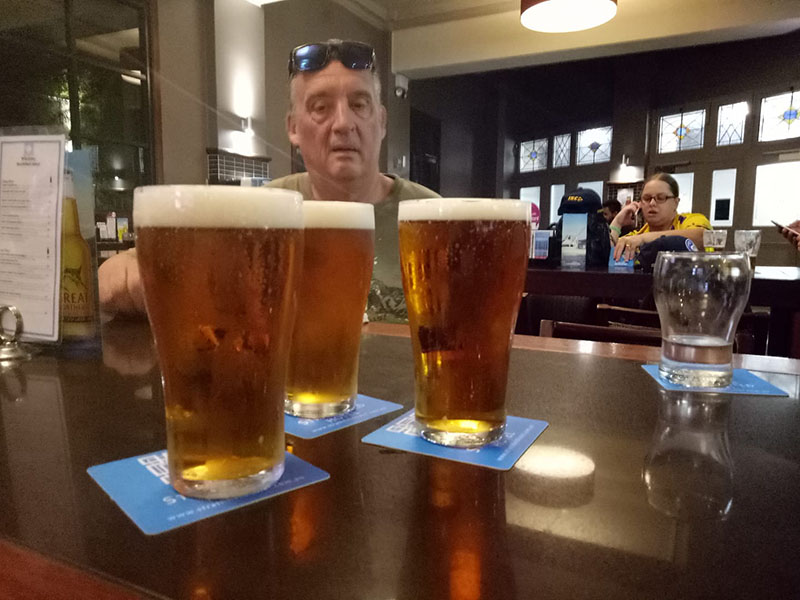 My radio program "Sydney Sounds" had been on 2RRR-FM in Sydney on Saturday nights from 6pm for almost 20 years. Earlier this year, it was moved to the earlier time slot of 2pm Saturday, which is a more accessible slot for many of its listeners, so has managed to maintain its faithful followers and gain new ones. It can be streamed live via website 2rrr.org.au as well as all online radio streaming apps.
Some 2022 releases that have been featured on Sydney Sounds radio show (including but not limited to):
1. Garry Gray and Ed Clayton Jones – "We Mainline Dreamers".
Two pioneers of Australian alternative music (Garry having been part of the early Australian punk music scene and member of influential band Sacred Cowboys, and Ed briefly a member of Nick Cave and the Bad Seeds and more substantially The Wreckery) were longtime associates but first time collaborators. To quote from the album liner notes : "These men thought there was nothing for it but to build a new ship and sail it out into the uncertain waters, one more cruise to the siren's rocks, to a vortex erasing time and space, the place of certain madness and rabid desires, the Atlantis of 1960's TV horror and perennial loss." Garry provided the lyrics to Ed's cinematic electrical musical compositions, representing a surreal trip on A Great Big Clipper Ship. Mainly electronic music with rock, psychedelic, punk and pop influences.
2. Steve Lucas – "Cross That Line"
A stylistic change of direction on this solo album by the X guitarist-singer towards a bluesier sound with a brass section on a few tracks giving it a New Orleans trad feel.
3. Brigitte Handley & Matahari Ranch – "Koln Vision" and Dark Shadows – "Sour Candy".
Australian singer-songwriter-guitarist Brigitte Handley, now based in Germany, released a mini album with Matahari Ranch called "Koln Vision", about her observation of her adopted German residence of Cologne. Her Sydney trio The Dark Shadows also launched a new single called Sour Candy.
4. Flowers For Jayne – "Dangerous Woman".
Three former Western Sydney School friends who also happen to have been members of Sydney bands such as The Lime Spiders, The Eastern Dark, Drop Bears and Smelly Tongues put together an album of strong Rock'n' pop songs lead by Singer Songwriting guitarist Jayne Murphy.
5. Fabels- "Minds".
Sydney two-piece act Fabels album of Trance Post Punk Psychedelic Soundscapes.
6. Glen and Glenda - "Bohemia"
Second album by Sydney acoustic Duo consisting of Maria Merle (Vocals and percussion) and Stephen Frossoni (guitars and bass) both of who composed all the songs and recorded and mixed by Sydney Punk pioneer and i94 bar contributor Bob Short(Filth ,Dead Rabids, Red White and Blue comix) who also contributed Keyboard and vocals to some of the tracks.
7a. Balkan Grill, Majestic X1 and Slack Punks at The Moshpit Erskineville.
7b. Ian Krahe Memorial Gig At The Crow Bar in Leichhhardt
Balkan Grill are local guitarist songwriter and vocalist Ned Alphabet's tribute to Yugoslavian Indie rock bands, playing covers and Neds' originals, featuring new rhythm guitarist Dražen Kovačević from The Dum Dum Boys, Peter Pan. Majestic X1) and former Queen Annes Revenge member Mark Crasti and guitar maestro Paul Hayward. Paul is one of the most versatile guitarists in Sydney who also plays punk in The Baddies, country in Dobbs Cryptophonics (formerly Satelite V) and instrumental lounge and movie soundtrack Henry Mancini and Burt Bacharach type music in Paul Hayward and The Sidekicks. I didn't see opening act Slack Punks on the night but had seen them at the Ian Krahe Memorial Gig At The Crow Bar in Leichhhardt a few weeks earlier. This was Evil Roomers paying tribute to the original guitarist from X. Evil Roomers consisted of original guitarist Geof Holmes (X), Ian Krahe's nephew Luke (Slack Punks), Jim Dickson (Radio Birdman and The New Christs) and Johnny Butler (The Baddies), performing songs that would be made famous by X.
8. Joeys Coop at The Golden Barley Hotel in Enmore.
Being one of the "15 blokes of a certain age in a dodgy bar somewhere" that Joeys Coop singer Mark Roxburgh feels is their destiny to perform to, I was there.
9. MIdnight Oil's Hordern Pavilion show
I can't say that I have been a big follower of Midnight Oil over the years but have appreciated their contribution to Australian rock so when Edwin Garland (Moonlight Five/Waxworks/Dwarf Thrower and contributor to the I-94 Bar) told me he could not only get me highly sort after tickets to their last show at the Hordern Pavilion but transport to the pre-gig fan meet-up at a pub beforehand through his "contacts", I jumped at the chance. My transport there was a car full of Midnight Oil fan club members, mainly from around the Northern Beaches all of whom had stories to tell of their experiences, and the crew included an American fan who had been travelling around the world following the band. At the Hordern, I recognised a lot of musicians from local bands as well as punters I have seen around the local venues, all of who had seen the Oils over the years which left me in little doubt about the respect held for them.
10. Sydney Alternative Rock and Roll Market Festival at The Factory Theatre Complex at Marrickville.
This was a massive event consisting of four stages: The Ska/Rockabilly stage, 60's influenced stage, I-94 Bar stage and outdoor stage. It ran in tandem with promoter Tiffany Palmer's market and art show consisting of clothing, records and memorabilia. I didn't manage to catch any of the acts on the Ska stage but saw Surf Instrumental band Los Monaros on the outdoor stage. On the '60's Stage, I caught performances by The Smart Folk, Intercontinental Playboys and The On and Ons, and on the i-94 Bar Stage, I watched The Darrans, Jupiter 5, Sonic Garage and X.

I also catch as many gigs that I can get to by favorite local bands that I have mentioned in previous years' Top 10 lists - such as The Mezcaltones, White Knuckle Fever, Men From uncle, Jupiter 5, Pocketwatch, The On and Ons, Sonic Garage, Chickenstones, Urban Guerillas, The Overtones, Aberration and Rubbernecker amongst others.