Top Tens for 2022: Ned Alphabet, songwriter, guitarist and vocalist for Sydney-based World Punk band Balkan Grill.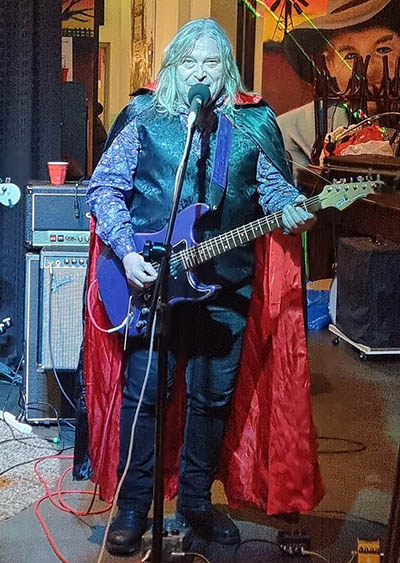 The Damned: A Night Of A Thousand Vampires (Live in London) 2CD & Blu Ray
One of my all-time favourite bands. The Damned can do no wrong. Been blasting this a lot over the summer.

Evil Roomers: "Then Again/Revibe" 2CD
Comprising of an Evil Roomers rehearsal tape plus an additional disc of reworked and overdubbed recordings. Listening to this it is clear that the late Ian Krahe provided X with quite a lot of music that lives on in many of their signature songs.

Albert Bouchard: "Re-Imaginos" CD
Originally released in 2020, I only managed to grab a copy this year. Former Blue Oyster Cult (BOC) drummer Albert Bouchard re-imagines their much-maligned "Imaginos" concept album, originally a Bouchard solo project, released back in the mid-80s. "Re-Imaginos" features all new recordings and a double-album's worth of material as initially intended. His talent as a writer and arranger is fully evident here, and the understated acoustic based backing lets the songs stand on their own without distraction. It is easy to see how the quality of BOC releases following his departure dropped in quality, his absence highlighting the importance of his artistic contributions to the original band. Guests include Ross "The Boss" Friedman and former BOC bassist Joseph Bouchard.

IRK ERK + Slack Punks @ Crowbar, Sydney 25/09/22
Ian Krahe was a founder member of veteran Sydney band X, among other bands. On 25 September '22, his nephew and former bandmates hosted a tribute concert performing his songs. Slack Punks led by Ian's nephew Luke put in an energetic performance. The main act consisted of Luke on guitar and shared vocals, Geof Holmes on lead guitar and shared vocals, Jim Dickson on bass and John Butler on drums. Such a heartwarming event that felt a lot like a family reunion I was privileged to attend.

X + Doll Squad + Pocketwatch @ Marrickville Bowling Club 18/06/22
Quite simply X are one of my all-time favourite bands (along with the aforementioned Damned), and they didn't disappoint. Killer line up on the night included Geof Holmes on lead guitar and John Butler on drums. DollSquad are a great live band, mixing girl group sensibilities with New York Dolls raunch. Pocketwatch are a group of young blokes with great taste in music and an enthusiasm for rockin' out.

Fireball cinnamon flavoured whisky
I was first introduced to this divine heart-warming nectar a few years ago, it became one of my favourite alcoholic beverages in 2022. I have it in neat shots. Beer chasers go well if you want to get hammered. Try it with a shot of vanilla vodka topped up with cloudy apple juice for a relaxing refreshment.

Kurt Vonnegut: "Unstuck In Time"
Amazing documentary on one of the twentieth century's greatest writers.

Chris Masuak: "Faith & Practice in Bedlam"
An engaging and very entertaining read, sometimes tender, often raw, from one of my favourite guitar heroes.

Rubber Necker @ numerous dates & venues
I remember seeing Rubber Necker's second ever show at MoshPit back in 2019 and being suitably blown away. They are a force of nature. I have since seen them many times, and my band Balkan Grill has shared some bills with them over the years. Launching from a post punk sound, they seem to draw musical inspiration from some other parallel universe, making them one of the most original sounding bands that have come onto the scene in ages.

Balkan Grill: notable gigs
A decade plus on and Balkan Grill continue to entertain the masses. What started off as a one-off dada performance has slowly grown into somewhat of a minor live institution. The Grill's twofold modus operandi is as a tribute to the superior ex-YU punk & new wave sounds of the late 70s/80, as well as being a vehicle for my original songs.
The most memorable gig this year was 12/06/22 @ Marrickville Bowling Club with the legendary Baddies, and the amazing Rubber Necker. All killer, no filler.
Other notable gigs include 23/12/22 @ MoshPit with Majestic XI & Slack Punks, Live Fridays @ Town & Country, St Peters 07/10/22, and 20/08/22 @ The Townie, Newtown.
Tags: top ten, blue oyster cult, chris masuak, the damned, albert bouchard , rubber necker, 2022